TSNPDCL JAO Result 2018 Download Telangana State Junior Accounts Officer Result Date, Merit List & Cut off Marks.
Referring to Telangana State-Northern Power Distribution Corporation Ltd, this update is for the contenders who underwent the test organized on 22-07-2018. Many of deserving applicants made it to the paper venues in order to attend this state-level exam on the specified day and have been eyeing to verify TSNPDCL Junior Accounts officer Result 2018. Be notified that the latest update shall be posted by the recruiting association by the officials. This is done after confirming the list of qualified contenders and deriving TSNPDCL JAO Exam Cut Off Marks for the conducted tests. Fetch other specification about this contest and key data in different paths of this web update.
TSNPDCL Junior Accounts officer Result 2018
Under the direct recruitment drive, there are 107 vacant positions to be filled for Junior Accounts Officer positions in the company. Many had applied and appeared for the state-level competition lately. All that matter is to know what is going to be in a scorecard & when is the Cut off appearing. The strength of the attendees was optimum relevant to this test depending on which the further selection is based because the rest of the formality is primarily depending on how TSNPDCL Junior Accounts officer Result 2018 goes for the ongoing recruitment. Considering the importance of this contest, here are some key points and facts that are helpful to the hopefuls.
TSNPDCL JAO Results 2018 Date
Highlighting Subject: TSNPDCL JAO Result 2018
Regulatory Body: Telangana SNPDCL
Posts to Fill: JAO
Number of Seats Available: 107
Type of Recruitment: Direct
Posts Confirmation: Permanent under State Government
Selection Method:

Written Exam and Interview

Conduct of Exam:

22-07-2018 (Sunday)

Results Publication:

Not yet Confirmed
TSPSC Group 2 Notification Pdf | Telangana Excise Officer Jobs
First things first, all the concerned competitors are required to keep frequently checking the relevant information with respect to the test and current developments made by the recruiting body. Latter to checking and evaluating the OMR answer sheets, the examining panel shall carefully prepare TSNPDCL Junior Accounts officer Result 2018 and the Merit based on such.
TSNPDCL JAO Cut Off 2018
Held at the authorised locations in GHMC and GWMC areas of Hyderabad and Warangal districts, this test was attended by most of the applicants. Keeping the methods of selection aligned with the rules laid by the association, TSNPDCL Junior Accounts Officer Cut Off shall also follow reservation and criteria. Other leading factors were the total count of attendees, difficulty-level, and category-wise arrangement of marks.
This test is objective type continued for 2 hours and had 100 marks in total. Out of 100 marks, an examinee needs to obtain at least 40% for Unreserved, 35% if they hail from BC, and 30% marks if they are from SC/ST categories. However, this threshold is expected to be easily surpassed as per exam experts and analysts. Depending on the actual statistics provided by the recruiter organisation, final statements shall be put forth for more data about the users. The convenient way to get to know all the updates is to keep yourself familiarised with the official web portal of the State company and whichever career portal as suitable.
TSNPDCL Junior Accounts officer Result 2018
Users are requested to pay attention to "www.tsnpdcl.in" and then to the Careers Tab on the top right corner of the landing page. Reach out to the latest issuance of notice in regard to the competitive exam. Follow that notice to applicants' login page. Submit the asked details and obtain your results. Print it according to your need. Keep it safe to put it to further use.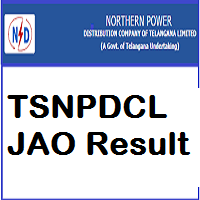 Get the news about the TSNPDCL JAO Result 2018 which has been discharged on the web. In case if you didn't know how to obtain the marks then tap on the underneath connection url and gettable easily. To verify Telangana JAO Result keep persistence for quite a while and accessible to verify, At that point we will give an immediate connection here. SO we recommend you remain associated here.
Telangana JAO Result 2018 www.tsnpdcl.in
Keep looking for the searched updates here as the next phases of selection shall be underway once the final status of this exam is out for TSNPDCL Junior Accounts officer Result. Please, be prepared for the oncoming procedure and group your testimonials for the same. Also, use a dedicated link only to reach proper channel of recruitment news. Follow here for more job and academic alerts.
Elaborated news available here