Read further to know the status of KKHSOU Exam Routine 2018 online. The update is brought in here about Krishna Kanta Handique State Open University. The students appearing for their private and degree and professional courses should take a look at the details here and start preparing for their varsity paper as per the KKHSOU Time Table pdf 1st, 3rd 5th Semester arranged this year. Find out about the event schedule and check the important dates for your upcoming examinations.
KKHSOU Exam Routine 2018
All the students enrolled with Krishna Kanta Handique State Open University, Guwahati is instructed and advised to read these recent updates generated online. The Famous institution in Assam conducts the session-end examinations semester-wise for different Graduate and Masters' Degree courses at the end of every academic session. For various programmes like BA, MA, BCOM, MCOM, BCA, MCA, and BSC, there are many state candidates to attend their theory and practical exams. And to carry out the exams, it is necessary for the examination controller to dispatch every latest detail to the graduates and scholars from time-to-time. With respect to the upcoming papers, visitors should note this update about the examination schedule.
UPDATES ON 06-12-2018: Dear students, please obtain the Krishna Kanta Handiqui State Open University Time Table for Various UG PG & Degree 1st, 3rd, 5th Sem Exam by using the below table link.
Time Table (Rescheduled ):Master Degree 6th Semester Exam
Deled First Year (New Old) Back Exam Schedule
DJMC & DCHN 2 nd Semester Notice Detail Here
Degree 3rd Sem (NEW & OLD) Exam 2019
Degree 5th Sem (Regular & Back) 2019
PG Diploma in Yoga & Naturopathy (PGDYN) 1st & 2nd sem(BACK)
Special Degree 1st semester (New Course) and Special Degree 3rd semester Download Now Here
Master Degree/ PG Diploma 2nd Sem July August: Download Here
Master Degree 4th Sem July August Check Here
MBA MCA 5 sem Date sheet Check Here
BBP One and Two Year Regular Back- Download Now
Degree 5th Semester Time Table: Download Here
PG Diploma in Yoga Therapy & Naturopathy (PGDYN) 2nd Sem: Check Here Now
Master Degree 3rd Semester Examinations, 2018: Get Here
PG Diploma and Master Degree 1st Sem Exam Get Here Now
MBA/MCA 6th Semester Examinations, 2018: Get Here
Check Degree 1st Semester Examinations (New Course), 2018 updated: Download Now
Degree, 3rd Sem. Exam Time table 2018: Download Here

Download KKHSOU Exam Result
Also Check: Indian Post Office Recruitment
KKHSOU Time Table 2018
The reputed university if North-East state of Assam shall hold the term-end papers in May-June this year for which, the next thing to know is KKHSOU Exam Routine 2018. With the help of this date sheet, candidates can have time to get the final touch to their preparations and be ready. The date sheet shall arise on the internet in February-March tentatively. All the examinees need to go through the detailed news and should access the authenticated link mentioned in the later context.
Latest Jobs for Freshers: Paytm Hiring Now
News Type: KKHSOU Exam Schedule 2018
Controlling Authority: Krishna Kanta Handique State Open University, Guwahati, Assam
Programmes Offered: Undergraduate, Postgraduate, and other Professional Certificate Courses.
Examination Cycle: Semester 1, 2, 3, 4, 5, and 6
Academic Session: 2017-2018
Examinations Date: May-June 2018
Date Sheet Status: Feb-March (Tentative)
Bank Jobs: YES Bank Recruitment.
www.kkhsou.in 1st, 3rd, 5th Sem Routine 2018
Students are advised to refer to the last segment on this page to download KKHSOU 1st 3rd 5th Semester Time Table pdf. Stay in touch with this web page to receive and grab all the latest and upcoming news regarding the test as well. The term end exams include theory, practical, and VIVA Voce that will be held at regional study centers as well as at the campus itself. For all the offered courses, there are vast numbers of candidates enrolled with the institution via full-time and private admissions.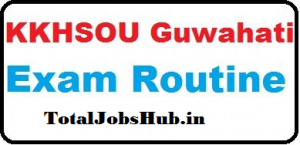 The State University is a recognized institution by University Grants Commission and Distance Education Council, Government of India. The administrative process is handled at the university headquarters located at Housefed Complex, Last Gate, Dispur, Guwahati.  Currently, the varsity has been offering academic programmes in humanities, Science, Social sciences, and professional courses like Doctorate, Masters, Bachelors' Degree, Diploma, and Certificate also taking on Management, Law, and Administration courses. Keeping in mind an active participation of the contestants, the varsity board of controllers shall release the Event plan according to each and every stream.
Get KKHSOU Exam Routine 2018
Step 1: Log on to the leading web gateway of the University given, "www.kkhsou.in"
Step 2: Navigate to the Latest News and Events section after reaching the homepage.
Step 3: Find the course-wise list of KKHSOU Time Table and select it.
Step 4: Download it and print for more convenience.
Step 5: Start your study plan according to the events.
KKHSOU Exam Time table 2018 BA, Bsc, Bcom
Please check and visit the authenticated link to avail KKHSOU Exam Routine 2018 after reading the guidelines. More about the exams and upcoming updates can be obtained from the official link given hereunder. Kindly, reach the comments box below and leave your message to the admin if you have any query or suggestions.
Link to Refer: Download KKHSOU Time table from here