Read here and check KKHSOU Result 2019 for the Dec-Jan-May-June examinations. Krishna Kanta Handiqui State Open University, Distance Education and examination cell is the conducting body that will issue the latest exam updates for this academic year. Those, who participated in their term-end papers including Viva-Voce should note all the relevant details provided here to access further updates. The KKHSOU Marksheet 1st, 3rd, 5th sem announcement is done now.
KKHSOU Result 2019
This update is generated here to inform the students engaged in different distance education degree courses offered by KKHSOU, Guwahati. Krishna Kanta Handiqui State Open University, Guwahati is a famous institution to provide higher education to the needful students through the means of distance education. The general degree programmes offered at the varsity are BA, MA, BCOM, MCOM, BCA, MCA, and BSC, and Diploma in Elementary Education along with a Bachelor in Education. Every year, the exams are scheduled in the form of Odd and even semesters. Hence, those attending their examinations in odd semesters need to get this update and proceed further to obtain KKHSOU Marksheet BA BCOM BCA MA Deled from here.
Diploma in Creative Writing in English, Diploma in Journalism & Mass Communication, Diploma in Library and Information Science, Tourism Management, PGDBM (New Course) 1st, 2nd Semester, PGDCA 2nd Sem, PGDHRM 2nd Sem, PGDMC 2nd Sem, BA 1st, 2nd, 3rd year (Back), Diploma in Assamese Journalism
MBA 6th Sem Old Course, MCA 6th Sem, Re-scrutiny result of Degree 2nd sem
BCom 1st year (Back), BCom 2nd year, BCom 3rd year (Back), BA 2nd Sem (New), BBA 2nd Sem, BCA 2nd Sem, Result BCom 2nd Sem, MBA 2nd Sem, Result : MBA 4th Sem , Result : MBA 2nd Sem, Result : MBA 2nd Sem, MBA 4th Sem, MSW 2nd Sem 
Also Check, Rescrutiny Results
DELED 2nd YEAR, Sikshan Mahavidyalaya Nagaon-DELED IInd Yr , Re-scrutiny DELED 1st year, Re-evaluation Marksheet, Re-evaluation result of Examination, Re-scrutiny result of Degree 1st sem, MBA/ MCA 6th sem Exam, KKHSOU DELED 1st YEAR(NEW) KKHSOU DELED 1st YEAR(OLD) MBA 3rd sem (1st list),
Also Check, KKHSOU Time Table Pdf
KKHSOU Results 2019 BA, bcom BCA, deled
All the examinations are held for distance learning programmes or private courses. The main thing to note is that lakhs of students are enrolled with the institution in several different programmes. The written and Viva examinations are done for this session and were held in May-June this year. Now, the students can check the status of KKHSOU Result 2019 here. The latest news is available here with respect to the ongoing exams undertaken by the Varsity examination panel.
Jobs for Freshers: Paytm Bank Latest Recruitment News | Degree Jobs: LIC ADO Recruitment
Declaration Type: KKHSOU BA BCOM BCA MA DELED Result 2019 1st 3rd 5th Sem
Controlling Body: Krishna Kanta Handiqui State Open University, Guwahati, Assam
Courses Offered: UG, PG, Diploma, Education, and Professional Courses (Distance Education)
Examination Cycle: Odd Semesters (Sem 1, 3, 5)
Academic Session: 2018-19
Examinations Dates: December-January-May-June
Results Announcement: Published Here for  various semester
Recent Jobs: Gramin Dak Sevak Recruitment
www.kkhsou.in 1st, 3rd, 5th Sem result 2019 BA BCOM BCA MA Deled
Keep note of all the details being displayed here and visit the authenticated media as given at the end of this web page. The term end examination was held in the format of theoretical, practical, and VIVA Voce which were organized at several regional centres and study centers. A huge number of candidates turned out to participate in their session-end papers, and await the latest updates about the KKHSOU 1st, 3rd, 5th Sem Result 2019.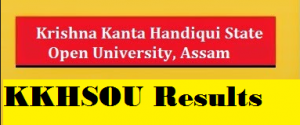 This update segment is specially provided to the examinees, who are keen to check their status in the BA BCOM BCA MA Deled Marksheet. The university is a reputed institution offering higher education to remotely located students from the state of Assam. This Varsity is recognized by University Grants Commission and Distance Education Council, Government of India. The administrative and management-related work of this institution is controlled from its headquarters based in Housefed Complex, Last Gate, Dispur, Guwahati, Assam. The faculties are available for the different academic program in humanities, Science, Social sciences, Masters, Bachelors' Degree, Diploma & Certificate courses including Management, Law, Administration courses, and doctoral courses.
KKHSOU Result 2019 with Marksheet DELED
Type the official web address of this varsity in your Google Address bar.
After getting to the homepage of this website, locate the KKHSOU Results section or the latest news and notification section.
Follow it to reach the students' login page and type your Roll Number, Name, or and Enrolment Number in the fields.
Hit the submit button and obtain a detailed mark sheet for your subjects attended.
Take a hard copy in your possession and keep it as a prof for future reference.
KKHSOU Marksheet 2019 1st, 3rd, 5th Sem
Kindly, follow the guidelines to reach the correct location as specified above and print KKHSOU Result 2019 1st 3rd 5th BA BCOM BCA MA Deled Marksheet. Keep in mind to check the latest and upcoming notifications appearing here.  For more concerns, please visit the official address marked below. For other updates regarding academic and job events, stray tuned. Leave your suggestions or questions in the comments box provided hereunder.
Initialize your KKHSOU Mark Sheet from here