Working from home has become fairly common in India nowadays. There are two major reasons for this phenomenon: easy availability of high-speed Internet at affordable rates and the need for businesses to stretch businesses beyond their geographical limitations. High real estate prices are contributing towards more businesses seeking employees willing to work from home.
Benefits of Work from Home Jobs
Worldwide, work-from-home jobs are contributing towards the reduction of vehicles on the road, used for commutes and consequently, lower fuel consumption and bills. In India, where commuters can be fairly long and leave employees stressed, working from home is a better option for employers and staff.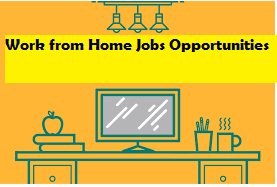 To help you make a great career by working from home, we list top 10 career opportunities.
Top Work from Home Careers
To help you choose a great career from home, we list some options and median pay scales prevailing in India for these professions. Pay scales may vary according to location, nature of job and size of the company.
Travel Counselor (Rs.10,000 to Rs.15,000/month)
Travel Counselors hired by travel and tour companies and often large ones. The job is fairly simple and involves working on your telephone and computer. You will handle calls from prospective travelers, guide them about various holiday packages, air, sea, land and rail bookings and other services.
Virtual Customer Service (Rs.15,000 to Rs.20,000/month)
With some luck, you may be able to get a work-from-home job as Virtual Customer Service Agent with a large company like Amazon India, among others. The employer will provide software for working as Virtual Customer Service Agent. You have to answer queries related to orders and returns while responding to complaints.
Tele-caller (Rs.20,000 to Rs.25,000/month)
Banks, Non-Banking Financial Companies, and other service providers require Tele-callers to make marketing and sales related calls and follow-up existing clients. You will get a database of persons to call and have to key in their inputs and responses on a template from the employer.
Recruitment Consultant (Rs.20,000 to Rs.25,000/month)
Recruitment companies and portals hire consultants to contact clients, generate mandates to find the right staff via telephone calls and emails. Online recruitment portals are increasing in India. Hence, you can find several jobs as fulltime Recruitment Consultant.
English Tutor (Rs.20,000 to Rs.25,500/month)
Tutoring in English is an evergreen work from home in India. It also pays fairly well, and work timings are flexible. You can work with an educational institute to provide online tutorials or open a coaching class at home. English learning is in great demand in India because millions of students opt for studying in native languages. Consequently, they find themselves at a disadvantage when opting for higher studies or seeking jobs.
Data Entry Operator (Rs.25,000 to Rs.27,000/month)
Another easy-to-find work from home in India is Data Entry Operator. A very simple job to do and evergreen in India. You can find plenty of Data Entry Operator jobs through any recruitment portal or newspaper advertisements. It involves copying data from paper sheets or other computer documents and setting it in the format given by the employer.
Medical Transcriber (Rs.25,000 to Rs.27,000/month)
Working as Medical Transcriber is a good career opportunity for those who want to work from home. There are thousands of medical transcription jobs available across India. A very prestigious career too since it forms part of the medical profession. You will transcribe audio inputs such as doctor-patient talks and make a concise summary of relevant points.
Online Sales Promoter (Rs.27,000 to Rs.30,000/month)
Online Sales Promoter is a job done from home. If lucky, you will be hired by some top company for this post. Your job is very simple: you need to post images of products sold by your company on various websites and write an attractive description to woo customers. You will also have to respond to questions from buyers about the attractiveness of these products.
Documentation Clerk (Rs.25,000 to Rs.30,000/month)
Documentation clerks position is required by logistics companies, travel agencies, large offices, hospital and other businesses. The job is fairly complicated but pays well. As documentation clerk, you have to prepare paperwork such as Bill of Lading, Invoice, Customs Clearance papers, keep records of passports and bank statements and maintain or create another important document for the employer in the specific format.
Advertising Assistant (Rs.27,000 to Rs.30,000/month)
Newspapers advertising agencies require Advertising Assistants. The job is simple and carries good salary. Your job is to check advertisements for spelling errors, verify telephone numbers, make corrections if needed, and proofread advertisements before they go for final print. You can earn more if you are skilled in graphic designing by offering the service. A great career opportunity for those who want to work from home.
In Conclusion
There is no shortage of career opportunities for those who want to work from home. In addition to these fulltime jobs, you can also find ample part-time projects online. However, in India, most employers will not allow you to work from home on flexible hours because of stiff deadlines. Further, payments for some work from home jobs are based on the targets you achieve during the day. While working from home is attractive, it also requires serious effort. You can look for career opportunities to work from home at any reputed recruitment portal in India.