TNSET Hall Ticket 2018
Exam entrants need to access their TNSET Hall Ticket 2018 online here. Tamil Nadu State Eligibility Test shall be conducted by Mother Teresa Women's University at the state-level. This examination is aimed at recruiting the aspiring teachers and will be held on 04th March 2018 (Sunday). Relieving news for much-concerned candidates is that they can Check Tamil Nadu SET Admit Card here and download it through the authenticated link provided at the end of this news.
So, this competitive examination is a part of the essential assessment of the aspirants, looking to get placed as teachers in the Colleges and Universities residing in the state. This examination is undertaken by Nodal Agency- Mother Teresa Women's University, Kodaikanal, Tamil Nadu and around thousands of the applied candidates are going to participate in this exam on the same day at different organized venues. Those, submitting their online registrations timely, will be able to get shortlisted for Admission tickets to the exam.
Breaking News: TNSET 2018 Admit Card, Hall Ticket Announced Now. Interested Candidates please Download Tamil Nadu SET Hall Ticket For 4th March Exam at tnsetexam2018mtwu.in or check the URL settled below:

Download Here TNSET 2018 Hall Tickets for Paper I, II
Also Read: Latest Tamil Nadu State Jobs
Tamil Nadu SET Hall Ticket 2018
Kindly, be responsive to this update and proceed as instructed to avail your TNSET Hall Ticket 2018. Tamil Nadu State Eligibility Test shall be held on 04-03-2018 and examinees need to access it via the correct web media provided in the reference section here. The Date is confirmed and may be pushed for later days further as per the authority's decision. The contestants can Check Tamil Nadu SET Admit Card easily by remaining in touch with this portal here.
Degree Jobs: KARHFW Recruitment
Information Regarding: TNSET Admit Card
Name of Examination: Tamil Nadu State Eligibility Test
Controlling Body: Mother Teresa Women's University, Kodaikanal
Posts Offered: Assistant Professor, Lecturer
Working Departments: State Government Colleges and Universities
Selection Procedure: Written Examination and Interview
Examination Date: 04th March 2018 (Sunday)
Hall Ticket Status: Published Now
Exam Timing:
1st Paper- 9:30 a.m. to 10:45 a.m.
2nd Paper- 11:15 a.m. to 12: 30 p.m.
3rd Paper- 2:00 p.m. to 4:30 p.m.
TNSET 2018 Admit Card Download
Find out the vital instructions that every candidate is ought to follow before they Download TNSET Hall Ticket 2018 online. There are certain details that are to be noted and kept in mind while the participants leave for the examination. The entry ticket carries information to exam venue, time, reporting time, and the general guidelines about what to do and what not to do during the test.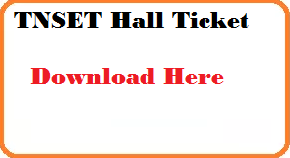 This examination is for the Assistant professor and Lecturer vacancies that will be filled on the basis of Rank secured in the competition. The placement will be for different subjects depending on the applied stream mainly. This exam is bilingual in mode (English and Tamil). All the preparations for the competition are managed by the state Varsity. The placement is to be done later for 26 subjects and will be held at 11 Nodal Centers across the state.
Instructions for TNSET 2018 Exam:
Kindly, reach the correct place to obtain a copy of your Examination Ticket and carry it to the examination centre.
Be instructed to bring your original Id proof along with this admission card. The identity card may any out of PAN Card, Aadhaar Card, Voter Card, Passport, or Driver's License.
Entrants are instructed to reach the exam venues as specified in the Hall Ticket; Latecomers shall not be allowed to enter the premises.
Use of mobiles, calculators, electronic gadgets, smart watches, or digital watches is prohibited inside the examination hall.
Use of unfair means is prohibited and may cause the cancellation of paper for a candidate is found indulged in such.
Points to Note to Get TNSET Hall Ticket 2018
This web address is the correct place you need to reach, "www.tnsetexam2018mtwu.in."
After landing on the homepage, find the recently updated link related to the competition.
Follow it to get to the candidate's login page and type your Registration Numbers and Password or Date of Birth.
Press the submit button and avail a copy of Hall Ticket highlighting your Name, Signature, and a passport-sized photograph.
Take a hard copy along and keep it for the future reference.
TN State Eligibility Test Admit Card 2018
Please refer to the guidelines mentioned above and Check Tamil Nadu SET Admit Card 2018 status for your 4th March Exam. For more details and regular updates, kindly, remain in touch here and access the official link stated hereunder.
If you have any doubt in your mind relevant to TNSET Hall Ticket 2018 then Visit Here.