Tamil Nadu Dr. Ambedkar University will announce TNDALU Result 2018 for the examination to law courses held in May–June 2018 this year. The varsity will release its update online and those keenly waiting for TNDALU Result 2018 tndalu.ac.in Law University May Results should know all the details about their exams here. Please read the updated info here and refer to the main link and recent news.
TNDALU Result 2018
The government-owned University is the only state varsity that administers law course and operates Law colleges in the State of Tamil Nadu. Based in the State Capital Chennai, the varsity heads 10 Law colleges established in Chennai, Madurai, Trichy, Coimbatore, Tirunelveli, Chengalpattu, Vellore, Dharmapuri, Ramanathapuram, and Villupuram. These colleges offer different degree courses in BA LLB (Hons), BCOM LLB (Hons), BBA LLB (Hons), BCA LLB (Hons), and LLM in 9 different branches. The university conducts a regular assessment for the enrolled students and each year students get examined twice; once in May-June and the other in Oct-Nov. The odd and even semester exam cycles are held for summer and winter exams respectively.
Also Read: TNDALU Date Sheet
Dr. Ambedkar Law University Result 2018
Dr. Ambedkar Law University result 2018 is going to be published here for all those candidates who attend the LLM OR LLB examination in May session. On this segment, you will get the 1st, 2nd, 3rd, 4th, 5th, 6th Sem Marks. Hence, be with us to get all the data regarding the marks.
Notification About: TNDALU LLB, LLM Result 2018
Courses Available: BA-LLB, BCOM-LLB, BCA-LLB, BBA-LLB, LLM, etc.
Academic Session: 2017-18
Affiliated Colleges: Law Colleges in Tamil Nadu
Examination Date: April-May-June
Results Announcement: Released for May Revaluation Courses

Result Declared For Regular & Revaluation Exam Updated on 25th September
5 YEAR B.A.B.L. \ B.A.LL.B. DEGREE MAY 2018 -(OTHER THAN FINAL SEMESTER) REVALUATION RESULT 

3 YEAR B.L. \ LL.B. DEGREE MAY 2018 -(OTHER THAN FINAL SEMESTER) REVALUATION RESULT 

CUT OFF MARKS OF LL.M. DEGREE COURSE 2018

3 YEAR B.L. \ LL.B. DEGREE (FINAL SEMESTER), MAY REVALUATION RESULT

5 YEAR B.A.B.L. \ B.A.LL.B. (FINAL SEMESTER), MAY 2018 - REVALUATION RESULT

M.L. \ LL.M. (SEM \ NON-SEMESTER) DEGREE

3 YEAR B.L. \ 3 YEAR LL.B. DEGREE EXAMINATIONS (OTHER THAN FINAL SEMESTER), MAY 2018 -RESULT 

FIRST YEAR - 3 YEAR B.L. \ 3 YEAR LL.B. DEGREE EXAMINATIONS (OTHER THAN FINAL SEMESTER), MAY 2018 - RESULT 

5 YEAR B.L. \B.A.LL.B. DEGREE EXAMINATIONS (OTHER THAN FINAL SEMESTER), MAY 2018 - RESULT 

FIRST YEAR - 5 YEAR B.L. \B.A.LL.B. DEGREE EXAMINATIONS (OTHER THAN FINAL SEMESTER), MAY 2018 - RESULT 

PRE. PHD DEGREE EXAM , MARCH 2018

3 YEAR B.L. \ 3 YEAR LL.B. DEGREE EXAM (FINAL SEM), MAY

5 YEAR B.A.B.L. DEGREE EXAMINATIONS (FINAL Sem ), MAY
Also Check: AP LAWCET Online Notification
Those waiting anxiously for TNDALU Result 2018 should be aware that the authority will publish the same on the internet media only. For a proper marks check please visit the officially approved link provided at the end of this page. As said above, the provisional Marks Statement will be uploaded in July-August. For minute-to-minute updates and notifications, please stay alert through this web portal and keep checking for more updates.
Latest Vacancies: EPFO Recruitment
TNDALU Exam Results 2018
The students who are registered with the varsity through 3/5-years degree programmes are essentially required to qualify their exams so as to be promoted to the next academic year. And those in the final years will be awarded pass certificate and degrees in their relevant disciplines. In the next few days, the main updates will be highlighted on the official web portal of the varsity along with the Marks Cards of the enrolled candidates.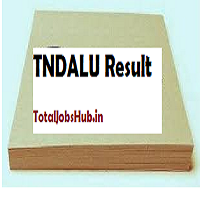 These term-end exams are held completion of the academic session held every year. The exams are further generalized by categorising into odd and even semester cycles. Along with the affiliated colleges, there are private law colleges and On-Campus College of the varsity that participates in the regular examinations. All the institutions will be waiting for the next notice issued under the supervision of Vice-Chancellor, Tamil Nadu Dr Ambedkar Law University, Chennai.
The study system is semester-wise and for the current session, the Theory ad Viva papers were conducted for semesters 1, 3, and 5. Once checking the scores status online, the students can also view challenge the authority via scrutinizing and filling for revaluation. The authority is governed and operated by the Government of Tamil Nadu via Act of Legislature for the advancement and dissemination of knowledge in learning, teaching, and Research in Law.
Way to Reach TNDALU Result May 2018 Revaluation
The details are accessible at the official web address of the varsity which is, "tndalu.ac.in". Get to the homepage and locate the results section in the recent news and notification segment. Follow an updated link pertaining to the courses taken and enter your Roll Number, Course Title, Name, or other specifications. Press the submit button and view your scorecard. Check details in the statement of Marks and generate a print out of your scorecard for future use.
tndalu.ac.in Result 2018 Tamil Nadu Law College
Read the instructions specified above and download TNDALU Result 2018 easily. For student's support, there is a direct web link provided hereunder. For upcoming academic news, keep visiting here on a regular basis. Leave your suggestions or remarks in the comments box for communication.