Hey, dear candidates if you are the one who applies for the SSC CGL Examination 2019 and worried about the exam preparation. Now do the exam preparation according to the selection process. For doing the best preparation all those you must know the complete SSC CGL Syllabus 2019. Because the syllabus is the second step after application form filling procedure which is going to help you to fulfill your dreams.
With the help of SSC Combined Graduate Level Exam  Syllabus, the applicant gets all important information about the examination and then prepare the time table. Then according to that start preparation for examination and give your best in the test. So candidate checks SSC CGL Syllabus 2019 PDF Tier 1, 2 Exam Pattern Hindi Download through this page now for cgl syllabus in hindi.
SSC CGL Syllabus 2019
With the help of the paper pattern, an applicant will give your best in the examination. The test pattern contains all important detail about the examination like subject name, questions, marks, total time, test type etc. After checking all information applicant gets the whole idea of the preparation. So check SSC CGL Exam Pattern with the help of this section for ssc cgl syllabus 2019 in hindi pdf.
Staff Selection Commission organized the Combined Graduate Level test in three tiers which are well described below:
Tier 1 – Written Examination
Tier 2 -Main Written Examination
Tier 3 -Personality test and interview
SSC CGL Exam Pattern 2019
Important Point of this Examination:
All the stages contain the different subject and the first stage will complete in 75 minutes and second will complete in 2 hours.
In the second stage, negative marking will use. On every wrong answer, 50 marks will be deducted.
SSC CGL Tier 1 New Exam Pattern
Test Type

Subject

Questions

Marks

Duration

Computer-Based
General Intelligence & Reasoning
50
50
75 Minutes
General Awareness
50
50
Quantitative Aptitude
50
50
English
50
50
Total
200
200
SSC CGL Tier 2 New Exam Pattern
Paper Name

Part

Subject

Questions

Marks

Duration

Negative Marking

Written Test
I
Quantitative Ability
100
200
2 Hours
0.50
II
English
200
200
2 Hours
0.25
SSC CGL Tier 1 Exam Syllabus pdf
Hey, dear Candidates if you will do preparation for the test and little confused for the preparation. So applicants don't worry must check this section of this page and collect SSC CGL syllabus in Hindi through this page.  
Quantitative Aptitude & Arithmetic Math Syllabus
Number System
LCM & HCF
Percentage
Partnership
Profit & Loss
Simple Interest
Compound Interest
Ratio & Proportion
Pipe & Cistern
Speed, Time & Work
Time And Work
Average
Boat & Stream
Mixture & Allegation
Age Problems
Advanced Maths Syllabus
Angle
Trigonometry
Geometry
Mensuration
Height & Distance
Polygon
Algebra
Data Interpretation
Bar Diagram & Pie Chart
English Syllabus
Fill in the blanks
one word substitution
Error Detection
Passage
Idioms & Phrases
Cloze Test
Voices & Narrations
Para jumbles
Spelling Errors
Antonym/Synonym
Reasoning Syllabus for SSC CGL Tier 1
Paper Cutting and Folding
Embedded Figures
Counting Figures
Pattern Completion
Figure Formation & Analysis
Series
Cube & Dice
Water Image
Mirror Image
General Mental Ability Syllabus for SSC CGL Tier 1
Missing Numbers
Matrix
Logical Venn Diagram
Distance Direction Test
Alphabet Test
Analogy
Arithmetic Reasoning
Blood Relation
Classification
Coding Decoding
General Awareness
Science & Technology
Physics
Chemistry
Biology
Space
Computer
GK (General Knowledge)
Art & Culture
Book and Author
Sports
Miscellaneous
Important Dates
Honors & Awards
Miscellaneous
History (India & World)
Indian Polity and Constitution
Geography (Physical, India, World)
Economy & Finance
Current Affairs (National & International)
SSC CGL Tier 2 Exam Syllabus pdf
Aspirants, if you have qualified the tier 1 exam and now start preparing for the SSC CGL Tier 2 Examination. But little confused for the exam preparation so for solving this confusion must check exam syllabus and then starts preparation for the examination. Without the exam syllabus, you will not qualify the examination. The exam syllabus for the Tier 2 will mention below….
Quantitative Ability.
English Language & Comprehension.
Statistics (Investigator Grade-II only).
Commerce (Investigator Grade-II only).
Economics (Investigator Grade-II only).
Mathematics (Investigator Grade-II only).
SSC CGL Syllabus in Hindi pdf
There are lots of new things added in the SSC CGL syllabus Hindi pdf that is yet to be fixed but the question will remain the same how much time and how many newly added topic is there in this paper. We advised all the users please be calm and stay with us for more information about the TIER 1 & 2 Papers.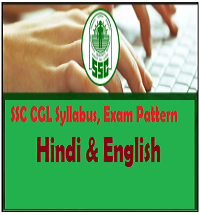 Check Out Below mention link:
SSC CGL Tier 1, 2 Exam Syllabus in PDF (Complete pdf list)