MPSC Exam Calendar 2018
Applicants, here is the complete MPSC Exam Calendar 2018 for your preparation. Maharashtra Public Service Commission is going to take several job-specific examinations this following year.  For those of you already applied for the upcoming tests, it is important to know about MPSC Exam Time Table 2018. Here in this segment, you can get all the related updates.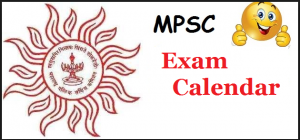 Maharashtra Public Service Commission follows a scheduled plan to conduct Competitive, Departmental Recruitment processes. The authority is liable to issue prior Notifications and advertisement for every type of Government jobs in the state. For aspirants looking for the next year's paper Calendar, here is an important announcement.
As per the recent news and announcements, the department has released Maharashtra Upcoming Exam Time Table 2018. Applicants are advised to go through the dates and time for their applied test. The test will start from the month of January 2018. The first test to take place is of Technical Assistant which will be conducted soon. The process followed as per the plan and schedule, will be carried out till January 2018. Read the MPSC Exam Calendar 2018 and start preparing for the papers.    
See: Tips for Clear Competitive Test
Declaration Regarding: MPSC Exam Calendar 2018
Conducting Organization: Maharashtra Public service Commission
Name of Test: Various
Start Dates: Mention in the Table
Time Table Status: Available Now
MPSC Exam Time Table 2018
Dear aspirants, it is important to have Upcoming Maharashtra PSC Exam Time Table 2018 before you go to attend your exams. As per stated by the Commission, this schedule will remain the same and unchanged unless or until there is an unexpected change. The examination days, however, may change depending on the official reasons or unexpected circumstances.
Here in the following sections, candidates can check the relevant dates and timing pertaining to their papers. Furthermore, they can download this Time Table in a Portable Document Format. This test plan is available in both the Marathi and English languages.
Applicants can also get the same from the official website, just by following the simple steps.
Maharashtra upcoming exam schedule 2018
| | | | | |
| --- | --- | --- | --- | --- |
| Sr. No | Test Name | Notification Date | Pre Exam Date | Mains Exam Dates |
| 1. | Technical Assistant Examination, | Jan |           —— | |
|  2. | Sales Tax Inspector Examination, | March |           —— | |
| 3. | Maharashtra Engineering (Civil) Services Examination | March | | |
| 4. | MPSC State Services Examination, | Dec 2018 | | |
| 5. | MPSC Maharashtra Forest Services Examination | March 2018 | | |
| 6. | Collateral Inspector, State Excise Tax, Class-1 Examination, | February | | |
| 7. | Maharashtra Clerk Typist (Marathi & English) Examination | February 2018 | | |
| 9. | Maharashtra PSC Civil Judge ( Junior Division ) & Judicial Magistrate ( First Class) | February | | |
| 10. | MPSC Tax Assistant | April | | |
| 11. | Maharashtra PSC Police Sub Inspector (SI) Departmental | January | | |
| 12. | Maharashtra PSC Agricultural Services Examination | April | | |
| 13. | MPSC Assistant Motor Vehicle Inspector Examination | January | | |
| 14. | MPSC Sales Tax Inspector Departmental Examination, 2018 | September |        — | |
|  15. | MPSC Assistant Cell Officer | Sales Tax Inspector | Police Sub Inspector (SI) Combined | April | | |
| 16. | Assistant Cell Officer Departmental | April |     — | |
MPSC Exam Calendar 2018 pdf
Applicants need to log on to the official web portal of the state commission i.e.,"www.mpsc.gov.in".
Move to the latest notification panel on the website.
Find and follow the most relevant link.
Get the calendar and check all the necessary and important dates. (download link is also mentioned below)
Get to prepare for your Upcoming MPSC Exams.
The Maharashtra Public Service Commission stated a scheduled plan to conduct Competitive Examinations, Departmental Examination to complete the direct Recruitment procedure. Hence such visitors who wish to apply online for the competitive exams under this service commission then they can check the time table and apply as per the schedule and start their papers preparations. For the help of contestants here on this webpage we provide the PDF of MPSC Exam Calendar 2018-2019 so please check the dates.
Official Link:

Download Maharashtra Exam Timetable pdf here.
Get other details regarding Upcoming paper on the Official Website
MPSC Exam Notification 2018 pdf
Here we provided all the dates regarding MPSC Exam Calendar 2018 above the passage, candidates looking for the central government jobs in the state of Maharashtra can check the upcoming exam schedule and start their preparation as per the following dates. In any case, department of Maharashtra Public Service Commission changes in the recruitment, our team also update the suitable dates and provide you the right or accurate information relevant to the test. Check the MPSC Exam Notification 2018 now.