Before conducting a State-Level Computer literacy test, MP Agency for Promotion of IT issues MP CPCT Admit Card 2019 online. Those registered to participate in the Certification Exam need to avail each related detail assembled here in references with the competition. Computer Proficiency Certification Test will be held on 16th & 17th February 2019 Statewide and entrants need to heed to have the basics of this examination as earlier as possible to avoid any errors or troubles so please get the Madhya Pradesh CPCT Admit Card 2019.
MP CPCT Admit Card 2019
This whole arrangement has been established by Madhya Pradesh APIT which is authorised and approved by the State Govt to promote Computer Literacy to the professionals and students. In further details, the Agency accompanies the govt neck-a-neck in carrying forward the growth of Computer literacy and employment opportunities to the learners across the State. For each certification, there is a test to clear and this is what the enrolled aspirants have to do in the first place. So, be watchful of the recent and upcoming news that are highlighted online for your aid.
MP CPCT Result Latest News
MP CPCT Admit Card 2019 Feb
| | |
| --- | --- |
| Detailed Notice | MP CPCT Admit Card 2019 Feb |
| Name of Exam | Computer Proficiency Certification Test |
| Conducting Authority | Agency for PIT, Madhya Pradesh |
| Type of Exam | Certification-Based |
| Level of Certification | State Only |
| Government Undertaking | State Govt |
| Dates of Conduct of Test | 16th & 17th February 2019 |
| Hall Ticket Status | Issued Shortly |
Heeding to prior instructions generated here is also important for the contestants alongside having MP CPCT Admit Card 2019 online. This test consists of a Typing Test & Computer Knowledge both of which are compulsory to qualify to get certified by the State Agency. Since the formality of registration and enrolment was done through an online gateway, candidates shall be prompted to get their respective Madhya Pradesh CPCT Hall Ticket 2019 cpct.mp.gov.in through the same mode.
Indian Army Bharti News |MP Vyapam Latest Bharti
Madhya Pradesh CPCT Admit Card 2019 February Exam
Though the details related to examination venues and other confirmed info shall be disclosed in the e-admit cards, entrants are informed prior that the written test shall be held at Indore, Ujjain, Bhopal, Gwalior, Jabalpur, Sagar, and Satna districts. Due to the compulsion of this test, the numbers of attendees have been rapidly staggering for the past five years or so. Kindly, be alert and follow the instructions stated herewith to gather more knowledge of the competitive test.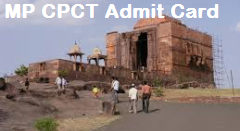 MP CPCT Exam Pattern & Syllabus
Examination will be based on Subjects of CBT, Knowledge of Basic CO, Proficiency in General IT Skills, Reading Comprehension, Maths and Reasoning Aptitude, General Awareness, and Keyboard Skills.
The Test is available in Hindi & English Languages.
This paper shall be having MCQs with four options of 75 Marks.
Hindi/English Typing Test Shall be held separately for 15 minutes.
The composite timing for this exam is 120 minutes that is, 2 hours.
MP CPCT Feb Hall Ticket 2019 cpct.mp.gov.in
Locate the original website of the Government Agency which is, "www.cpct.mp.gov.in" and find the main link highlighting Admit cards access for February exam. Follow it and click Action Button and choose Hall Ticket Tab on the home screen. Select Assessment date and press the Download button after confirming your Date, Venue, Timing, Location, Shit, and other mentionable details.
MP CPCT February Admit Card 2019
Look at the Details mention here for Madhya Pradesh CPCT Admit Card and get the government jobs. Dear competitors looking for the interest in the suitable detail then search the cpct.mp.gov.in which is also the main web portal. The test is a CBT framework concentrated on an appraisal of ranges of abilities that working in different show up are encouraged to enlist for the Exam Date.
After taking a printed version of your MP CPCT Admit Card 2019, please keep a copy of it secure for future use. Use the steps provided above and get easy access to the download page using a directed link below. For any kind of concerning query, refer to the comments box spaced at the end of this page. Do not forget to read the data at the back of your Hall Ticket you printed.
Download e-Admission Ticket from here