Hello scholars, here in this post we are going to help you apply for Karnataka Post Matric Scholarship 2018. Students who are residing in the state of Karnataka can avail the scholarship by applying for the Karnataka Post Matric Scholarship Fresh & Renewal Registration online. Let us know more about the scholarship and who can entertain the benefits.
Karnataka Post Matric Scholarship 2018
The administration that authorizes the financial assistance policies is Directorate of Minorities, Karnataka. This is to help the minor communities establish their education foundation for their children. The main aim is to let the students from minor class find the best ways to grow their skills and get a career opportunity in future.

What's New: Dear Candidates Karnataka Post & Pre Matric Scholarship Form Now Released. The Last Date to fill the Online application for both Fresh and Renewal Scholarship is updated here now.
Karnataka Bank Recruitment Updates
In the following segments of this article, the totaljobshub team has laid some useful tips and points before you start applying for the scholarship programme. As per the latest news, the last date for online registration is August 2018. Students are advised to rush to apply if they still haven't registered for it. More about eligibility and process to fill the Karnataka Post Matric Scholarship Fresh and Renewal Application Form is being given in the following sections.
KARHFW Recruitment Notification
Update Regarding: Karnataka Post Matric Scholarship 2018
Programme Authority: Directorate of Minorities      
Scholarship Name: Post Matric Scholarship
State: Karnataka
Important Dates:
The Ending date to Register is 9th October 2018.
The paper date is 21st October and 28th October 2018 (Mumbai Zones)
The result Declaration Date is 25th November 2018
Karnataka Post Matric Scholarship 2018 Fresh & Renewal
Before students apply for Post Matric Scholarship 2018 Registration, here are some things they need to keep in mind. These are eligibility criteria, Residency criteria, complete education information and background, and terms and conditions in proper. All you need to know for Karnataka Post Matric Scholarship Fresh & Renewal Registration is mentioned here.
Check Scholarship Status From Here
Eligibility Conditions:
Eligible Minorities: Muslims, Christians, Sikhs, Jains, Buddhists, Parsis.
State Residency: Karnataka
Karnataka Post Matric Scholarship 2018 Eligibility:
Scholars: Students from Class XI/1st PUC, XII/2nd PUC
Vocational Courses: Regular admission in I.T.I/I.T.C, JOC, Engineering Diploma, Paramedical Diploma, D.Ed, D.Pharma, GNM.
Graduation: Regular admission in B.A, B.Com, B.Sc, B.B.M, B.C.A, BSW, B.Ed, B.P.Ed, B.LibSc, BTA etc.
Post-Graduation: Regular admission (with previous courses also completed via regular attendance) in M.A, M.Sc, M.Com, MSW, M.Ed, M.PEd, MTA, PG Diploma, M.Phil, Ph.D, BA (LLB)
More Conditions to fulfill
The minimum percentage scored in previous exams/semester/ annual exams should be 50%.
The annual income of student's parents/guardians should not exceed Rs.2.0 Lakhs.
Students pursuing professional/private/correspondence courses need not apply.
Residents of Karnataka state living in other states can also apply.
Students, with state domicile other that Karnataka is not eligible.
Adhaar Card No. is must have before applying
Note: All the students who fulfill the above-mentioned conditions can apply for the assistance scheme.
Must Haves for Karnataka Post Matric Scholarship Status 2018
A Bank Account
Adhaar Card number.
Students Adhar card must be linked to bank Account.
Karnataka Post Matric Scholarship Status 2018
Visit the official website "www.gokdom.kar.nic" and find two lists A and B. Look for your name in lists. If it's in 'A', then start a fresh application, if it's in B, start the renewal application. For renewal use your Permanent id.
Take a printout of your application form and attach it to the required documents.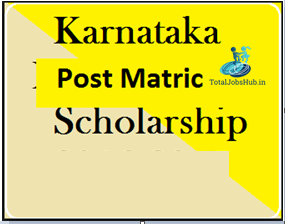 Documents Required at the time of submission
Mark sheets of current/Previous course/semester.
All the Fee receipts as a proof of your current admission
Income certificate, Domicile certificate, Frontpage Photocopy of your bank account passbook, Adhaar card copy, passport-sized photos, and a valid Id proof issued by the government.
Attach all these documents with your application and finally submit it to District Officer for Minorities/College/Institute.

Links to visit:
Also Check Post Matric Scholarship Info here