Dear engineers, Union Public Service Commission is going to conduct the competitive exams to recruit eligible candidates for various Engineering posts. For these exams, you can get IES Syllabus 2018 here and prepare for you UPSC ESE exams. Find the Syllabi and detailed paper pattern in the following categories. The UPSC IES Pre-Exams will start soon.
IES Syllabus 2020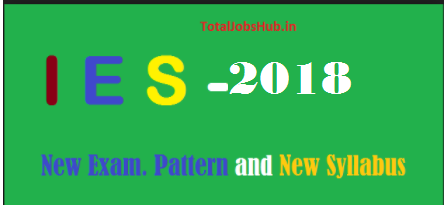 Like every year, Union Public Service Commission launches several notifications to conduct competitive examinations at different levels. This year candidates will be given chance to attempt Engineering Service Examination also called for Indian Engineering Services. According to the Exam Calendar, the competition shall begin from January 2020 for which UPSC Engineering Services Exam Pattern PDF Download is made available here.
Here are some more important news and updates for our participants. The exam time is on and so are your preparations. As the Union Commission has issued the news along the calendar, students can now also Download IES Syllabus 2020 pdf. For the current year, UPSC Engineering Syllabus has changed a little bit. Nut, don't worry because UPSC IES Syllabus Hindi is available in detail here. Students can also download UPSC Engineering Services Exam Pattern PDF from this website. Find more details below.
| | |
| --- | --- |
| Update Regarding | IES Syllabus 2020 |
| Examination Authority | Union Public Service Commission |
| Name of Examination | Engineering Services Examination(ESE) |
| Date of Exam (Pre) | Updated soon |
| Syllabus Status | Available |
UPSC Engineering Services Exam Pattern 2020
Given below are the details for Engineering Services test that will be held to recruit engineers in Mechanical Engineering, Electrical Engineering, Electronics and Communication, and Civil Engineering. Check out the UPSC Engineering Services Exam Pattern PDF in the table given below.
Preparation Tips to Crack Any Test
| | | | |
| --- | --- | --- | --- |
| Stage – I (Preliminary) | Objective Type | Time Length | Total Marks |
| Paper I (Common) | General Studies & Engineering Aptitude | 2-Hour | 200 |
| Paper II | Engineering Specific | 3-Hours | 300 |
| Stage I Total | | | 500 |
| Stage II (Mains) | Subjective Papers |   |   |
| Engineering Paper I | | 3-Hour | 300 |
| Engineering Paper II | | 3-Hour | 300 |
| Stage II Total | | | 600 |
| Stage I + II Total | | | 1100 |
| Stage III | Personality Test |   | 200 |
| Grand Total | | | 1300 |
Given below is the IES Syllabus 2020 pdf for the candidates who are interested in downloading the detailed format of all the engineering topics. Aspirants can also avail the UPSC IES Syllabus Hindi PDF. The official link has been mentioned t the end of the article.
UPSC IES Exam Syllabus 2020
General Ability 
Part-A (General Knowledge and Awareness)
Part-B (General English)
IES Syllabus

 Civil Engineering
Topics of Paper-I include
Building Materials
Solid Mechanics
Structural Analysis
Design of Steel Structures
Design of concrete and Masonry structures
Construction practice
Planning and management
Paper-II contains the contents
Flow of Fluids, Hydraulic Machines and Hydro Power

–
(a)Fluid Mechanics, Open Flow, Pipe Flow
(b)Hydraulics Machines and Hydropower   
2) Hydrology and Water Resources Engineering
(a)Hydrology
(b)Water Resources Engineering
3) Environmental Engineering
(a) Water Supply Engineering
(b)Waste Water Engineering
(c)Solid Waste management
(d)Air and noise pollution and Ecology
4) Geo-technical Engineering and Foundation Engineering
(a) Soil Mechanics
(b) Foundation Engineering
5) Surveying and Geology
(a) Surveying
6) Transportation Engineering
(a) Highways
(b) Tunneling
(c) Railway Systems
(d) Harbours
(e) Airports
UPSC ESE Syllabus Mechanical Engineering
Paper I Contents
Thermodynamics, Cycles and IC Engines
Heat Transfer and Refrigeration and Air-conditioning
Fluid Mechanics
Fluid Machinery and Steam Generators
Paper II Contents
Theory of Mechanics
Machine Designs
Strength of Materials
Engineering Materials
Production Engineering
Industrial Engineering
Elements of Computation
IES Syllabu

s

 Electrical Engineering
Paper I
EM Theory Electric and Magnetic Field
Electrical Materials
Electrical Circuits
Measurements and Instrumentation
Control Systems
Paper II
Electrical Machines and Power Transformers
Power Systems
Analog and Digital Electronics and Circuits
Microprocessors
Communication Systems
Power Electronics
IES Syllabus

 Electronics and Communication
Paper I
Materials and Components
Physical, Electronics, and Electron Devices and ICs
Signals and Systems
Network Theory
Electromagnetic Theory
Electronic Measurements and instrumentation
Paper II
Analog Electronic Circuits
Digital Electronic Circuits
Control Systems
Communication Systems
Microwave Engineering
Computer Engineering
How IES Selection will be Done:
Prelims & Mains Test
Personality Test:
First of all, the department will organize the Personality Test. The Personality Test will carry 200 Marks (with no qualifying Marks).
Final selection for the candidate is totally based on the total number marks in the written exam and then interview.
Download UPSC IES Exam Pattern & Syllabus PDF (Available Now)
Get Complete UPSC Indian Engineering Services Exam Revised Syllabus
Check, ESE Notification here
Get other updates at upsc.gov.in