How to Prepare for IBPS RRB Exam 2019
That time most of all students want to make your career in the banking sector and for this applicant must join the various coaching's and institutes. So applicant if you have applied for this IBPS RRB Examination and now want to qualify this examination. But some student keeps the question in our mind How to Prepare for IBPS RRB Exam 2019. We know applicant this examination will conduct on the difficult scale and most of all doesn't qualify this examination. But don't worry applicants we are here to help you and provide a way to start the exam preparation for qualify this exam.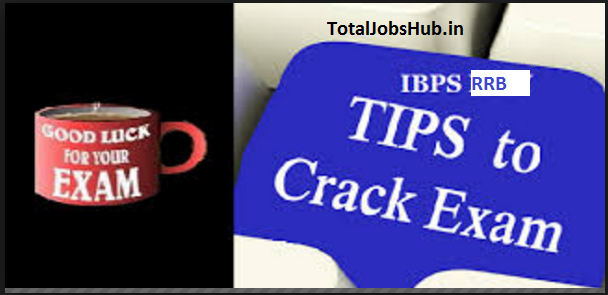 Get Interview Tips Here Also Check, IBPS RRB Admit Card IBPS RRB Latest Recruitment
Tips for Crack IBPS RRB CWE VII Exam
IBPS Bank Exam Tips: Candidates should follow all these given tips and tricks for IBPS RRB exam and quickly prepare according to that via online.
Proper planning– The first thing you have to do is make a plan for your studies, without planning nothing can achieve. So you have to understand about your IBPS exam syllabus and find the suitable section or subject in which you are weak, and after that pay more attention to that particular subject and then prepare a study schedule.
Every time Update yourself – without updating you couldn't easily prepare or crack the IBS RRB Exam so you should read the newspaper, magazines on the regular basis and also update with current affairs, daily events and activities. Mainly from the banking and finance industry. It is the master key to arranging for IBPS exam online. You could also help through the Internet.
Topic wise Study– Candidates have to concentrate on a single topic at a time do not just rotate one to another and pay attention to each topic daily.
More Focus On General Knowledge– GK is one of the best topics through which one can easily gain good marks in all over banking exams. You should have good command on general knowledge. You can take help of daily newspaper reading habit, GK books and magazines current affairs. Topics mostly come in bank exam are – Current events, banking awareness, sports, business news, political news and film & television, etc.
Proper Time Management– "Practice Make the Man Perfect" so practice more and more and try to solve all the questions in lest time through practicing. For better result solve previous year IBPS questions and practice papers
Tryout with Mock Test– Candidates must try online mock test every day. After completing the IBPS Exam Syllabus you should try these mock tests to judge yourself in the exam so that you have an upright idea of the paper.
Good Revision– Before few days of an exam you have to revise all your syllabus once again and focus more on the weak section that time.
Be Confident– At the time you are entering the examination hall, you have to perform as a hero be confident does not hesitate. After getting the Question via online take that section first in which you are good, most important save time and then go for the long or next part.
Healthy Food & Tension Free: Now we are at the last minute tips for IBPS RRB Exam. Candidates who are going to attend this test need to be calm during test preparation time. We especially recommended avoid junk & other street food because it turns you more lazy, drink lots of water and get sufficient sleep.
Strategies for IBPS RRB CWE vii Exam
Aspirants if you want to crack this examination then follow these exam strategies and give your best in an examination. Important point of exam strategy will mention below………..
Time Management & Planning:
Prepare a time table and divide time for each Section according to your strength.
First, cover Reasoning & Aptitude Section. Try to solve these two parts in 60 Minutes if you will qualify this exam.
Now move to Hindi/ English Section, give 30 Minutes to this part & then 30 Minutes for GK & Computer.
If you save time, then try to answer Left questions. Applicant must focus Mainly on Accuracy, Don't make the guess.
Collect Study Material For IBPS RRB 7
Aspirant before the starting of exam preparation you must check exam syllabus, exam pattern and any other detail/ material that will be helpful for the exam preparation.
Check Syllabus topics
Study Books
Previous years papers
Check Current Affair
Put More Efforts on Your Weak points
Mock Tests: – Give Mock Tests with Honesty & time duration of 2 Hours. It helps you to guide towards your weak points.
Must try to give the online mock test, it takes you proper feel of exam & you can Manage your time for solving the questions.
There are 30 minutes extra in this to compare the in other exams so you can solve more questions & score high.
Only High Scoring Marks takes you to your final Goal.
In the Examination Hall make strategy according to your preparation. Take that section which is your strength & less time taking.
Last Minute Exam Preparation Tips IBPS RRB 2019
At the time of examination, the applicant doesn't be so nervous for the examination.
Check all needed document which will necessary for the examination.
Don't contain any electronic accessories in the exam hall.
In the whole examination must cool and normal and give your best in the examination.
Before the examination must check it once again important points of every subject.
Tips For IBPS RRB Interview Round:
In an interview round applicants must be confident
Don't hesitate
Must focus on your personality, confidence, knowledge of Banking Sector, Current Affairs related to Banking, About RRBs, RBI Banking Rates & Personal Information. We hope this How to Prepare for IBPS RRB Exam 2019 article is helping you to crack your examination
All team of totaljobshub.in wishes you All the Best for Exam……….