Chhattisgarh Nurses Registration Council will be announcing CGNRC ANM GNM Result 2019 online for the exams held for BSC, MSC, ANM, and GNM Nursing courses. The theory and practical exams were conducted in Jan and August by the council for 1st, 2nd, and 3rd years respectively.
Those who are curiously awaiting the recent updates regarding CGNRC 1st/ 2nd / 3rd Year Nursing Results ANM GNM, need to look down further and get their marks statements and grab CGNRC ANM GNM Result 2019 cgnrc.org 1/ 2/ 3 Year Nursing.
CGNRC ANM GNM Result 2019
The state-government owned body CGNRC (Chhattisgarh Nurses Registration Council) Raipur is an autonomous authority under the Health & Family Department of Chhattisgarh. The body is headed to take into account the delivery of Nursing education to the Medical aspirants from the state and outside.
The three-year degree courses provided by the Council are Auxiliary Nursing Midwifery, General Nursing Midwifery, and BSC/MSC in Nursing. Those registered for the 1st, 2nd, and 3rd years of their Nursing degree programmes, are mandatory to qualify their exams. CGNRC ANM GNM Time Table Pdf
cgnrc.org Result 2019 1st/ 2nd/ 3rd Year ANM GNM Exam
Further degree and diploma courses in the Nursing and Medical field are offered under the Chhattisgarh Upcharika, Prasavika, Sahai Upcharika-Prasavika Tatha Swasthya Paridarshak Registrikaran Adhiniyam, 1972. The Authorising body acting as the sole responsible authority undertakes the education and training for the aspirants.
The regular examination process is done time to time twice a year, i.e. in January and June-July. The CGNRC ANM GNM Result 2019 to be announced this year for the August sessions. RESULTS DECLARED FOR Jan ANM GNM 1st, 2nd, 3rd Year Exams. PGI Chandigarh Recruitment (Latest Medical Jobs)
SEPTEMBER SUPPLY EXAM AUXILIARY NURSES CUM-MIDWIFE- 1st& 2nd YEAR Check Here
JANUARY AUXILIARY_NURSES_CUM-MIDWIFE 1st Year
AUXILIARY_NURSES_CUM-MIDWIFE 2nd Year
CGNRC ANM Result 2019
Update Type: CGNRC ANM GNM Result 2019
Undertaking Authority: Chhattisgarh Nurses Registration Council, Raipur, Government of Chhattisgarh
Courses Undertaken: Auxiliary Nursing Midwifery, General Nursing Midwifery, BSC, MSC in Nursing
Academic Years: I, II, and III
Session: 2019
Dates of Examination: Jan and Aug 
Scores Publishing Date: Published Now for ANM & GNM Jan First Second Third  Year Check the above Links
DECLARATION OF RESULT Aug
August 2019 GENERAL_NURSING_AND MIDWIFERY (I)
August 2019  GENERAL NURSING_AND MIDWIFERY (II)
August GENERAL NURSING_AND MIDWIFERY(III)
August AUXILIARY NURSES_CUM-MIDWIFE – I
August AUXILIARY NURSES CUM-MIDWIFE – II
RESULT of August.
RESULT August GENERAL NURSING AND MIDWIFERY(I)
GENERAL NURSING AND MIDWIFERY(II) Marks
GENERAL NURSING AND MIDWIFERY(III)
CGNRC GNM Result 2019
Under the programmes, the students are provided with training both practical and theoretical knowledge in the related domains and regular assessment is done by the authorising institute or college registered with the Council. After the training gets concluded the batch of trained nurses then has to undergo the yearly exams. This year's exams got taken in August and the council shall upload CGNRC BSC Nursing 1/ 2/ 3rd Year Results on its official web portal. Upcoming Jobs: ESIC WB Recruitment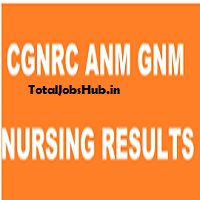 It is nearly the time when the regulatory authority announces CG ANM GNM Nursing Results online. Therefore, the aspirants are advised to stay in touch with the internet media on a regular basis and avail all information related to their term-end exams. A detailed statement of marks will be updated on the internet for the following subjects taken as per the programmes opted.
All the private and government Nursing institutes that offer several degrees and diploma courses to lakhs of students will also release the next update on their academic web portal and the notice boards via offline mode. Kindly, stay aware of the same and acquire further details in this regard and also stay alert of all the news and career-specific notification through this website.
Way to Obtain CGNRC ANM GNM Result 2019
Visit the authenticated web address of the council known as "cgnrc.org" and reach the latest News and Events segment available on the homepage. Find an updated link highlighting the Results for each subject/course. Get to login page and type your Roll Number / Enrolment Number, Choose course Title, and select the year. Push the submit button and view your scorecard. Take a printed copy along to use it in the future.
CG ANM GNM 1/ 2/ 3rd Year Result 2019
Read the instructions highlighted above and reach the official page to view your degree exam marks. Find more related details and updates regarding your diploma and degree courses. Keep visiting here and check this web page detailing all the career and academic information.
Chhattisgarh Nurses Registration Council Result 2019
Dear users of Chhattisgarh Nurses Registration Council stay with us and department is all set to declare the marks of ANM, GNM 1st, 2nd, 3rd Year for June July August test.
Data Here We mention About:
ANM 1st Year Result
ANM 2nd Year Result
GNM Ist Year Result
GNM 2nd Year Result
GNM 3rd Year Result