Get ready for CG Vyapam Patwari Exam 2020 and Download CG Vyapam Patwari Syllabus 2020 here. Chhattisgarh Professional Examination Board is going to conduct a written test for the posts of Patwari for which the topics and Subjects are important to know. Read the contents given in this article and start preparing for your exams.
CG Vyapam Patwari Syllabus 2020
Chhattisgarh Professional Examination Board is the main Recruitment provider in the state. This Board is most famously known as CGVYAPAM (Chhattisgarh Vyavsayik Pareeksha Mandal). Recently, the Board had issued a Notice of 1085 vacancies for Patwari in the State Revenue and Disaster Management Department.
Now, after completing the online registrations for the posts, aspirants should look for the Exam Syllabus, which is also given in detail here. Read the instructions and Exam pattern here. Also Download CG Patwari Admit Card
Chhattisgarh Patwari Syllabus 2020
News and updates are brought here for the candidates, who are willing to participate in the Chhattisgarh Patwari Exam 2020. Here on this web page, we have provided the complete and updated syllabus for aspirants, who are going to participate in the written test. Carefully note the topics and Paper pattern for the upcoming Patwari Jobs. A CG Vyapam Patwari Syllabus 2020 Pdf Download link is also mentioned in the later segment of this page. CG Vyapam Patwari Latest Bharti
News Regarding: CG Vyapam Patwari Syllabus 2020
Recruiting Authority: CG VYAPAM (Chhattisgarh Vyavsayik Pareeksha Mandal/Chhattisgarh Professional Examination Board)
Post Name: Patwari/Lekhpal
Total Posts:

 varied

Job Location: Chhattisgarh
Exam Date:

Not Confirmed (Tentative)

Syllabus Status:

Available here
CG Vyapam Patwari Exam Pattern 2020
As we all know the Patwari exam is based on the class 12th Subject pattern, here are some more points that you should know about the examination. 12th Passed Jobs Railway Jobs
Subjects to be Included: Hindi, English, Maths, Reasoning, General Knowledge, and General Awareness including State History and Politics.
The written test will be conducted for 2 hours.
This exam will carry 150 questions and all of them will be of 1 mark i.e the paper is of 150 Marks.
Negative Marking: Yes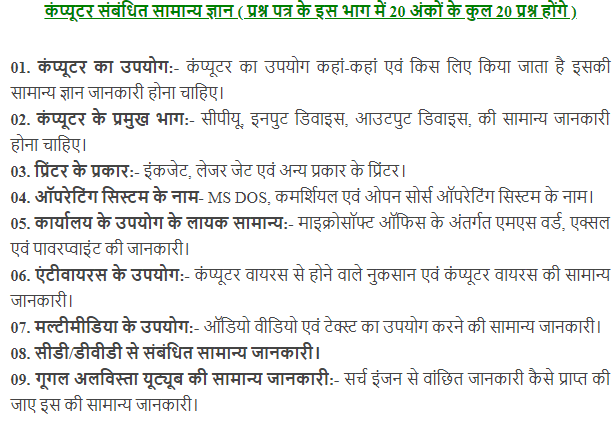 CG Vyapam Patwari GK Syllabus 2020
Chhattisgarh Polity & Economy
Cultural Heritage
Geography of Chhattisgarh
Geography of India & World
History of Chhattisgarh
History of India & World
Indian Constitution
Indian National Movement
Indian Polity & Governance
Recent Events in Sports
Science & Technology
World Current and Political Affairs
CG Patwari English Syllabus 2020
Adverb
Antonyms
Articles
Error Correction
Fill in the Blanks
Grammar
Idioms & Phrases
Reading Comprehension
Sentence Rearrangement.
Subject-Verb Agreement
Synonyms
Tenses
Unseen Passages
Verb usage
Vocabulary
CG Vyapam Patwari Reasoning Syllabus 2020
Alphabet Series
Analogy
Arithmetical Reasoning
Blood Relations
Clocks & Calendars
Coding-Decoding
Cubes and Dice
Decision Making
Direction Sense
Embedded Figures
Image Orientation
Mirror Images
Non-Verbal Series
Number Ranking
Number Series
CG Vyapam Patwari Numerical Ability Syllabus 2020
Data Interpretation
Decimal & Fractions
HCF & LCM
Mixtures & Allegations
Numerical System (Indian/International)
Percentages
Problems on Ages
Profit and Loss
Ratio and Proportions
Simple & Compound Interest
Time and Distance
Time and Work
CG Patwari Hindi Syllabus 2020 pdf
स्वर, व्यंजन, वर्तनी
लिंग, वचन, काल
संज्ञा, सर्वनाम, विश ेषण, क्रिया, क्रिया विशेषण, कारक
समास रचना एवं प्रकार
संधि- स्वर, व्यंजन एवं विसर्ग संधि
रस व अल कार, दोहा, छद, सोरठा
व्याकरणिक अशुद्धिया
शब्द रचना – उपसर्ग एवं प्रत्यय,
शब्द प्रकार, तत्सम, तदभव, द ेशज, विदेशी
पर्यायवाची, विलोमार्थी, अनेकार्थी शब्द, अन ेक शब्दा ें या वाक्या ंश क े लिए एक शब्द
मुहावरे व लोका ेक्तियां ।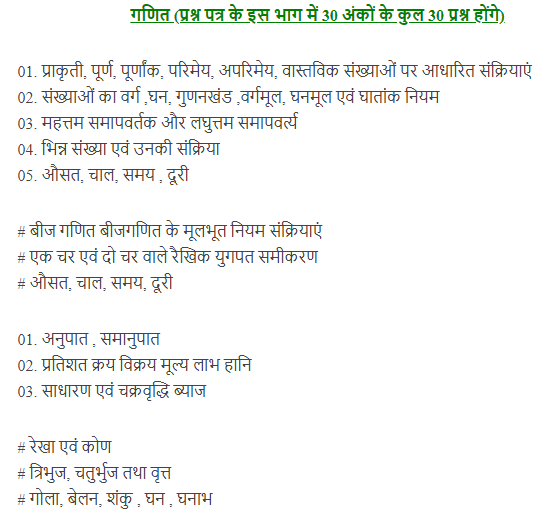 General data of Chhattisgarh (This part will have 15 questions and of total 15 marks) which includes:
Chhattisgarh's history, geography, political system, economy, government schemes, award-honors, traditions, folklore, important personality, and other important topics related to Chhattisgarh.
Imp Link:
Applicants can also download CG Vyapam Patwari Syllabus PDF here.