Students may download Andhra University Time Table 2018 online from here. Andhra University, Vishakhapatnam conducts undergraduate and postgraduate degree exams in March-April and October-November each year. Varsity's examination panel issues Andhra University Time Table 2018 UG PG Degree Exam Date Sheet prior to conducting of term-end exams. These theory and practice examinations are held twice a year for semesters.
Andhra University Time Table 2018
Located in Vishakhapatnam, Andhra Pradesh, this varsity is one of the famous and oldest institutions and delivers higher education to the state residents. In a few leading engineering colleges, AU Vizag has a fair amount of boys and girls students registered to the university at present. Out of many courses offered on-campus and college campuses. Degree, Education, Law, and Doctoral programmes are taken into consideration to fulfill the need of the students. During March-April and October-November every year, all the regular and private students are assessed for through subject-wise exams.
Latest Andhra Univ Date Sheet Published For:
B.A.,B.B.A., B.C.A., B.H.M & C.T., Degree Time-Table Download here
B.A., B.Com., B.B.A., B.H.M & C.T., B.C.A., B.Sc.(F.T.), B.Sc.(F.N.) 1st, 3rd, 5th Semesters Theory Exam are Scheduled with effect from 22-10-2018Check Circular here
U.G. Courses B.Sc.,B.Com., Degree Time-Table Download Now here
Andhra University Degree Time Table 2018
| | |
| --- | --- |
| Notifying Subject | Andhra University Time Table 2018 |
| Courses Provided | MA, MSC, BA, BSC, B.Ed., BCOM, MCOM, LLB, LLM, MCA, BCA, BBA, MBA, B.Tech., M.Tech., etc. |
| Location of University | Vishakhapatnam, Andhra Pradesh |
| Mode of Learning | Full-time and Private |
| Examination System | Semester-wise |
| Conduct of Exams | March-April/ October-November December |
| Date Sheet Publication Status | Revealed Online Now |
| Constituent and Affiliated Colleges | 4 Constituent and 575 Affiliated College |
Kindly, visit to see that Andhra University UG PG Degree Exam Date Sheet is subject to be posted online to the authenticated media of the university. For all the offered courses and affiliated colleges, the same universal exam schedule shall be followed in order to execute this year's exams. Higher Education is served at Multiple disciplines to the students completing their UG/PG programmes. Final-year candidates will be attending to their last semester examinations and need to be ready and all buckled up.
M.P.Ed 1st & 3rd Semester Exam, B.Pharmacy I/IV First Semester Online Exam, M.A English & Telugu I & III Sem
M.Sc Courses I & III Semester Jumbling/Clubbing Centres, Nov Download Here Now
B.Ed., (2 Years Course) , B.Ed.(Special Education) 1st Year 1st Sem Regular & Supply Schedule Download Here
5 Year Integrated MS (Applied Chemistry) Regular and Supplementary Examinations Time Table, October 2018 Get Here Now
Revised - B.E/Integrated Dual Degree IV/V & IV/IV 1st Semester Time Table, October Download Here
B.P.Ed and D.P.Ed II Year III Semester Online Schedule, November .Available Here
M.P.Ed I & III Semester Online Student Enrollment and Examination Registration Schedule, November Download Here Now
Marine Engineering 1/4,2/4,3/4,4/4 First Semesters Regular and Supplementary Time Table, December 2018. Published Here Now
Integrated Dual Degree B.Tech+M.Tech all First Semesters Regular and Supplementary Examinations Time Table, November 2018. Get Pdf Here
B.Arch Regular and Supplementary Examinations Time Table, November 2018. Download Now
B.E/B.Tech & Integrated Dual Degree B.Tech+M.Tech II/IV I Semester Examinations Time Table, December 2018. Download Here Now
Andhra University UG PG Time Table 2018
This is a grant chance to up their grades and score some marks on the Board. Andhra University Date Sheet shall be containing paper and subject codes, centre codes, and relevant dates to events. For every semester and every course title, different days will be arranged, however, for the same course but different Semester-year, these examinations will be carried out in shifts of Morning, Afternoon, and Evening session.
Colleges Under AU Vishakhapatnam Jurisdiction:
College of Arts and Commerce (28 departments and 55 colleges)
College of Science & Technology (19 departments and 44 courses)
College of Engineering (16 Departments and UG/PG courses)
College of Pharmaceutical Sciences
BR Ambedkar College of Law
College of Engineering for Women
AU Campus, Vizianagaram
School of Distance Education
Types of Programmes Offered:
Diploma
PG Diploma
UG
PG
Law
Education
Vocational Certificate
Professional Courses
Doctoral Courses
The Distance Education system has been actively catering to the needs of State residents at 32 study centres running across the state AP successfully alongside New Delhi. Hostel facility for Boys and Girls students as well as for faculties smoothens the timely service and education delivery further with well-furnished space and infrastructure. There are lakhs of students passing, and nearly the same number of candidates take admission to the active academic sessions. Hence continuing on to further higher degree education.
Best Option to get Andhra University Time Table 2018
Reach the admin website of University firstly, named "andhrauniversity.edu.in" and point the Latest Announcements section on the homepage. Visit here to check for examination-related link marked with Exam Schedule or Date Sheet. Follow it to the main page in accordance with your course title and semester. Note all the dates and event schedule thoroughly. Print your exam routine and start revising your subjects.
Andhra University Exam Schedule 2018 Pdf
In no time, examinees will be able to fetch their exam date sheets. Please remain alert and responsive all the time in reference to your degree exams. More details are to be highlighted on the internet media including exam results and other academic information. To stay up to date, keep visiting here on a regular basis. Leave us your comments if you have further words or thoughts to share with us.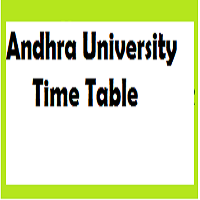 aucoe.info Time Table 2018 Pdf
The AU Campus distributed the date sheet for B.A B.Com B.Sc. Sem I, II, IV, VI paper. Here for the easiness of all the students, we are providing the Andhra University Time Table for all the visitors of this campus. Dear contestants in order to know more data relevant to the subject wise exam schedule and other data are requested to keep an eye on this web portal.
Mentionable Address: To get crucial details, visit here