The State Highest Judicial Body Allahabad High Court initiates recruitment for various Group C and D posts. Pertinent to that Allahabad High Court ARO Admit Card 2019 shall be uploaded online for the contestants who applied for the competitive test. Aspirants are suggested to read this detailed segment and receive noteworthy information on the AHC APS Hall Ticket 2019.
Allahabad High Court ARO Admit Card 2019
In Dec 2018, High Court of Allahabad propagated an official notice with prior concern and discretion of the State government. According to the detailed advertisement, there are 341 jobs to be filled in the High Court and subordinate judicial departments. Posts vacated are Assistant Review Officer, Additional Private Secretary, Drivers (Group C Class III), and other positions in the same. To get to the competition, the candidates will require to get their AHC Driver Call Letter timely. Thus, they are essential to staying alert by the means of internet media.
AHC ARO Admit Card 2019
Concerning Update: Allahabad High Court ARO Admit Card 2019 APS Driver
Recruiting Body: Allahabad High Court, Uttar Pradesh
Advt No:  01/A.P.S./2018, 02/A.R.O./2018 & 03/Drivers (C)/2018
Positions to Fill: Additional Private Secretary, Drivers, ARO, and others
Number of Vacancies:

341

Working Regions: Within the State Subordinate and High Court departments
Selection System:

Written Test, Skill Test and Interview (As per applied post)

Date of Conduct of Exam: TBA Soon
Allahabad High Court Driver, APS, ARO Admit Card: February 2019 (Tentative)
AHC Latest Recruitment | Allahabad High Court Group D Admit Card
Referring to the recent news and received updates both officially and unofficially, Allahabad High Court ARO Admit Card 2019 shall be uploaded on the employment portal of the designated authority. But before, the legitimate applicants will be sorted out and a shortlist will be prepared to issue their respective call letters.
Allahabad High Court Driver Exam Date 2019
Since the vacancies and grades are different for each position, the selection method also differs for them. Kindly, note the following methods for which contestants need to be informed and need to prepare accordingly.
There are multiple stages of Selection for the posts:
For Additional Private Secretary jobs, a shorthand and Computer will be carried out as stages I and II respectively.
For ARO posts, a written test as stage I and Computer Knowledge Test as Stage II will be conducted.
And for Driver exams, Stage I Test is going to be a written exam and then will be followed by a Driving Tests.
UP Roadways Recruitment | Indian Army Upcoming Vacancy
Allahabad High Court ARO Admit Card 2019
For the contenders willing to complete in the test, they need to bring their original and a government-approved identity proof along with their respective call letters.
For any discrepancy in the call letters issued by the authority, candidates need to report the same prior to the exam to the higher authority through helpline numbers/email.
Kindly, note the Exam Date, Venues, Reporting Time and other instructions carefully before appearing for the test.
Once the examination centre is allotted to the candidates, they shall be entertained a request to change the venue.
Latecomers of non-ticket holders are now going to be allowed to enter the premises.
Use of mobile phones, electronic devices, or, unfair is strictly prohibited inside the examination premises or halls. Candidates being found guilty will be prosecuted as per recruiting body or the laws laid by the state government.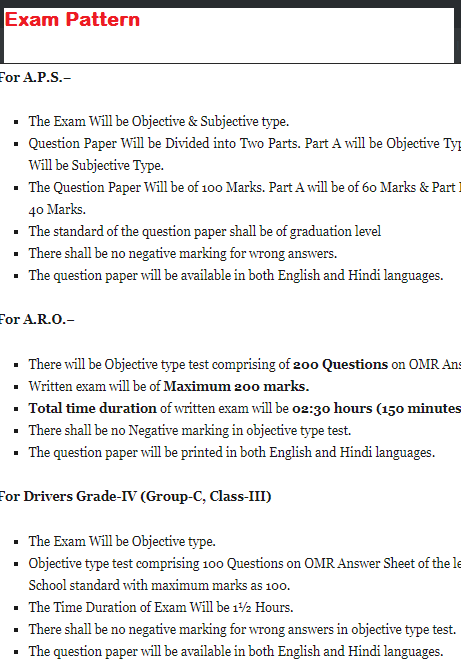 SBI Clerk Notification Pdf | Upcoming BSNL Jobs
AHC Driver Admit Card 2019
Highlights are available at the dedicated web media of the authority which is, "www.allahabadhighcourt.in" in the recruitment section. Locate it and visit the same for a recent update on hall ticket. Follow that given link and reach the login page to enter your login credentials. Submit the details and obtain a copy of your Allahabad High Court ARO Admit Card. Keep multiple copies of this card for future uses.
Allahabad High Court Assistant Review Officer admit card
इलाहाबाद उच्च न्यायालय ने अभी भी सहायक समीक्षा अधिकारी एडमिट कार्ड को ऑनलाइन मोड के माध्यम से जारी नहीं किया है। उन्हें केवल एक पूर्ण उपयोग करना है और प्रत्यक्ष लिंक का उपयोग करना है जो अब पृष्ठ के अंतिम भाग में ऑनलाइन उपलब्ध है। इसके अलावा डेटा में चयन मानदंड और ड्राइवर के परीक्षा पैटर्न और आगे के अनुभागों में सहायक समीक्षा अधिकारी शामिल हैं। आपको बस इतना करना है कि सभी डेटा का तुरंत लाभ उठाने के लिए इस वेब पेज पर रहें।
Follow the instructional details and an approved link provided along. More details with reference to the searched AHC APS Driver Hall Ticket is going to be refreshed here regularly. Put your focus here and visit the page regularly. Use the comments box to leave your message or views to the author of this article.