RTE Karnataka 2018 
We are here to share some great news with our applicants who will search the RTE Karnataka 2018 Admission. So applicants the notification for the RTE Karnataka Admission for the academic year are expected to be released by the Department Of Public Instruction, Government of Karnataka, Bengaluru in the forthcoming days at schooleducation.kar.nic.in in. We know that most of all applicants will be waiting for this especially those who don't continue their study and his/her parents will not afford the fee for school. So appliers need to verify this page and grab this opportunity.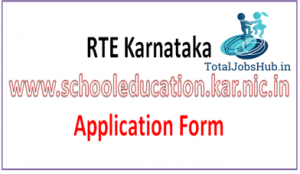 The Government of Karnataka has caught this a huge amount of complaints from parents stating that the number of schools is not following the proper selection criteria for the admission of LKG and 1st standard. All the parents are asked to pay a lot of money which they can't afford it. So the Government decided to exchange the entire process of enrollment of the students to different schools and submission of registration form under the Right to Education quota online and applicants if qualify this examination then he/she will do our future study till 10th class of totally free of cost. So applicants check all detail of this through the official site of organization.
Right to Education Uttar Pradesh
Right to Education Maharashtra
Latest News:  The parents of the candidates now know their school to apply Online for RTE Karnataka Admissions Lottery Result for 3rd Round. Please Check the Allotment Marks from the link mention below:.
3rd Round Result Updated Here
Result of RTE 2018 round 3 Lottery
Also Check, RTE Seat Alllotment Result
Circular for the process in Aided Schools for the year 2018-19 schoolwise seats.
Know your School  – Provisional List
RTE Admission Notification for the year 2018-2019 released here interested users can also obtain RTE 2018 Result below-settled link for more details. Candidates now fill the Admission form. Check the Date Extention Notification: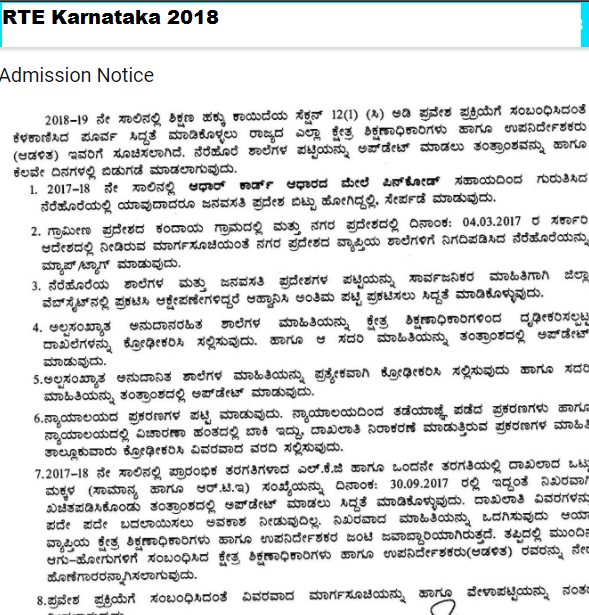 RTE Karnataka Eligibility 2018
Age Limit: Students whose age is in between 3 years 10 months to 4 years 10 months can get an entry to LKG & Pre School, and 5 years 10 months to 6 years 10 months may easily get admission to 1st standard as on Jun 01, 2016.
District: In case, of rural area, 1 k.m from the habitation/village for classes 1 to 5 and in an urban area, the area of neighbor shall be the area of the ward for the purpose of governance of local authority.
Admission Process: Candidates selection be done through online mode via lottery draw system. Guardians can easily verify the status of their Karnataka RTE Admission Result 2018 online as well as they'll be informed through SMSs.
RTE Karnataka Online Registration 2018
For applying this parent have to do little bit homework identifying the best school
Give top 5 preferences while submitting the RTE Admission Application Form 2018-19 online.
The school must lie under the RTE has to allot 25% of their pre-primary and class I strengths.
The following link will provide District wise List of Neighborhood School and department portal of schooleducation.kar.nic.in
If your children get enrollment through this exam till 10th standard there is no need to pay an admission fee and tuition fee. But parents are responsible for uniforms, books of students.
The school shall commence the admission of remaining 75% seats after the selection of 25% seats. If they are not following this,
You should let transport to the notice of Director (Primary Education), Office of the Commissioner for Public Instruction, Nrupatunga Road, Bangalore 560001
Karnataka RTE 2018 Admission Procedure:
Dear users if you are ready to register for the rte karnataka 2018 then must look out the section wise data and then registered yourself without any error and mistake.
How to Registration Online: This first thing always comes in your mind how and where do we register then students you can fill the online application form non other than online mode after adding the suitable id and password.
Scrutiny of applications: The students will be selected Round Wise the Lottery Result for RTE Karnataka Publish Online mode and the list of eligible students displayed after the registration form investigated.
The Process of admission: The selection will finish as per the seats if appliers amount is higher than seats then the rundown of the chose contestants will be made through lottery strategy before a person and it will be announced by the state training division.
Confirmation of Admission: when chosen understudies present their unique documents which are asked at the time of admission then the same moment those students were chosen and will get admission in the suitable classes through Lottery rounds.
RTE Karnataka 4th Round Result 2018
The Government of Karnataka is all set to released RTE Karnataka LKG UKG Ist Standard Results 2018 or selected student list who are ready to take the advantage of this scheme. Stay connected with us and get all the updates
RTE Karnataka 2018 Important Dates:

Application Form Now Release Check Here: RTE Application Form

Also, Download RTE Online Form 2018-19
Submitted by Parents at:
To be Submitted to the IMS Office            
Official Link: