Kerala University Time Table 2018
Students need to Download Kerala University Time Table 2018 online. The University of Kerala is going to conduct theory and practical exams in Aug Sept this year. All the students enrolled with the Varsity will be appearing for their degree examinations for the academic session 2017-18. Get ready to attend your term-end paper for the ongoing semesters for UG and PG degree courses. Read the recent updates about Kerala University UG PG BA BSC BCOM Date Sheet for 1st, 2nd, 3rd, 4th, 5th, 6th, 7th, 8th semester.
The students who are registered with State's most popular educational institution should note that these updates generated here all are taken from the campus official website. There are various postgraduate and undergraduate courses offered at the Varsity such as BA, BCOM, B.Tech., BBA, BCA, MCA, MA, BSC, MSC, MBA, B.PEd., BEd, LLB, LLM, MCOM, M.Tech etc. Every year the examination controller holds degree exams for about lakhs of enrolled students. This year too, the theory and practical paper are going to be held for semesters 1, 2, 3, 4, 5, and 6. Read the detailed news about the timetable that is to be issued for ongoing academic programmes.
Please Look out Kerala University Results (Published Now)
Important Update: The University Examinations scheduled on 30.04.2018 now postponed. We will soon update the Revised dates.
Time Table Release For these Courses:
2ND SEM BASLP (CBCSS STREAM) DEGREE SEPTEMBER 2018
2ND SEMESTER BASLP (OldScheme/Mercy Chance) DEGREE SEPTEMBER 2018
3rd PROFESSIONAL M.B.B.S. PART I (SUPPLEMENTARY) DEGREE SEPTEMBER 2018
4th SEMESTER MA/M.Sc. DEGREE AUGUST 2018 (MERCY CHANCE)
4th SEMESTER P.G. MA/M.Sc./ M.Com/MSW/MPA/MMCJ AUGUST 2018 (REGULAR AND SUPPLEMENTARY)
8th Sem BACHELOR OF HOTEL MANAGEMENT AND CATERING TECHNOLOGY (BHM) DEGREE (2006 Scheme- Supplementary / Mercy Chance)  Get Time Table Here
B.A. MUSIC PRACTICAL EXAM 1st Sem  Check Here
8th & 6th SEMESTER B.Com Hearing Impaired (HI) DEGREE PRACTICALS Regular and Supplementary (2013 Scheme)  Download Here
1st YEAR B.Pharm. (SUPPLEMENTARY) DEGREE Download Time Table Here
8th Semester Bachelor of Hotel Management and Catering Technology(BHM) Degree 2014 Scheme-Regular & 2011-Scheme Supplementary     Get Time Table Here
FIRST SEMESTER MBA (SDE) SUPPLEMENTARY DEGREE
SECOND SEMESTER M.Ed (TWO YEAR PROGRAMME-2015 SCHEME-REGULAR AND SUPPLEMENTARY) DEGREE
FINAL YEAR B.Sc. (ANNUAL SCHEME) -(SUPPLEMENTARY) DEGREE
B.Com. COMMERCE AND TOURISM & TRAVEL MANAGEMENT
FIRST SEMESTER B.Sc. DEGREE, B.A.COMMUNICATIVE ARABIC
BPA (BACHELOR OF PERFORMING ARTS), B.Com. DEGREE
THIRD SEMESTER MBA (SDE), FIRST SEMESTER MFA (PAINTING) & (SCULPTURE), First, Fourth Semester B.Tech. Degree, FINAL BDS – PART II DEGREE, THIRD SEMESTER BACHELOR OF HOTEL MANAGEMENT AND CATERING TECHNOLOGY, B.Com LLB DEGREE.

Download Kerala University Exam Time Table Pdf Here
Also Read: KARHFW Recruitment
Kerala University BA BSC BCOM Time Table 2018
This update is regarding one of India's largest institutions and is targeted to inform the readers about the session-end exams that are carried out every year for UG PG degree courses. The Campus will conduct BA, BSC, BCOM, MA, MCOM, MSC exams for the current session. Those, who are looking for the correct Kerala University Time Table 2018 update, need to know that the papers shall be held in Aug Sept this year. Students can download and print their Kerala University UG PG Exam Date Sheet now.
Declaration Topic: Kerala University UG PG Date Sheet 2018
Courses Offered: BA, BBA, B.Arch, BSC, MBA, MCA, BCA, B.Tech/ M.Tech, BCA, LLB/LLM, B.Ed, MA, MCOM, and others.
Mode of Education: Full-time and Distance Education
Colleges Affiliated: 250 (Districts of Thiruvananthapuram, Kollam, Alappuzha, and Pathanamthitta)
Academic Session: 2018-19
Examination Date: August Sept Oct
Date Sheet Status: Released Now for Several Courses
Degree Jobs: Paytm Hiring Now
kerala university exam timetable 2018
So, the number of affiliated colleges is 250 which encompass a huge number of students already registered with full-time UG and PG degree programmes. The Varsity bears a bigger responsibility to conduct these examinations for regular as well as the students enrolled through Distance Education programmes. Henceforth, Kerala University BA BSC BCOM Exam Date Sheet will be arranged considering all the students. The same applies to each college affiliated with the university.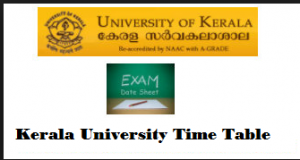 This Varsity is Re-accredited with A-Grade by NAAC India and has 16 faculties and 41 different Departments of teaching and research to serve the rising demand for quality Higher Education. Emphasizing on postgraduate programmes, the institution has also introduced MPhil programmes including doctoral research. Along with best in class infrastructure, the departments of education are categorized into Arts, Applied Sciences & Technology, Ayurveda, Commerce, Dentistry, Education, Fine Arts, Law, Management Studies, Medicine, and Sciences. All the registered students can have the relatively significant information through the varsity's official web media and searching for 1st, 2nd, 3rd, 4th, 5th, 6th, 7th, 8th semester time table.
Print the Kerala University Time Table 2018 1st, 2nd, 3rd, 4th, 5th, 6th, 7th, 8th sem
Log on to the official web media of the institution which is, "www.keralauniversity.ac.in."
After landing on the homepage, refer to the top menu bar and follow the "Students" section.
Find the Timetable link and follow it to get to the list of courses and their respective Date Sheets.
Download your Kerala University time table according to your courses and subjects were taken.
Note all the dates as per the scheduled event.
Get the exam routine printed out and keep it around to manage your time.
Kerala University UG PG Exam Date Sheet 2018
Now, get to the bottom of this page to download Kerala University BA BSC BCOM Semester Exam Time Table. For more updates regarding the degree examination and upcoming notifications, please keep visiting here and avail the relevant details online. For further concerns, refer to the comments box provided below the link.
യൂണിവേഴ്സിറ്റി ഓഫ് കെമിക്കൽസ് സെമസ്റ്റർ വിത്ത് ബസ് ബി സിസി ബികോഎം എംഎഎസ് സി എംകോം ബിഗിൻ പരീക്ഷ ടൈം ടേബിൾ ഉടൻ പുറത്തിറക്കും. യൂണിവേഴ്സിറ്റി വാര്ഷിക അല്ലെങ്കില് സെമസ്റ്റര് വിദഗ്ധ പരിശോധനയെ കുറിച്ചുള്ള ഏറ്റവും പുതിയ പ്രഖ്യാപനത്തിന് ശാന്തത പാലിക്കുക