Barkatullah University Time Table 2020 BU Bhopal UG PG Date Sheet: Download the exam schedule for the term-end exams to be held in July & Nov-Dec this year. Students need to be assured of having all the related details regarding their degree exams and should obtain the officially prepared BU Bhopal UG PG Date Sheet from the authenticated link provided in the following segment. But first, let us highlight some more significant details about the controlling University and other related facts.
Barkatullah University Time Table 2020
Barkatullah University is the most renowned educational institution that is located in the capital city Bhopal of Madhya Pradesh. The Varsity has 3395 colleges across the state and has a quality educational delivery system throughout the varsity. With over 5 lakhs students admitted every year, the faculty and teaching staff ensure that every candidate equally gains the higher education and seek better career opportunities.
The UG and PG degree courses provided at the university include Engineering, Medical, Language, Arts, Commerce & Management, Law, Education, Pharmacy, PG Diploma, and other certificate programs. The regular and private examinations are conducted every year and for every semester for the registered students. The dates and exam timing are specified in the Barkatullah University Bhopal time table 2020. Verify BU Bhopal Result (Published Now)
News Updates About bu Bhopal time table: Ph D Course Work, Revised Time Table for MBBS Get Pdf Here, MED, B D S Exam,  BCom Honours,  Barkatullah University Bhopal issue the Time-Table/ Notification For Time-Table For UG PG Various Courses. B.Pharm, BDS III, IV SEM, M. Ed. 1 Sem, M.D/M.S (Ayurved), MBBS Main/Supply. BED Semester Exam Date, PG Course 3, 4 Semester, UG I Year Supply Exam (560) Date Sheet Pdf, MMLT II Year, BMLT 1,2,3, Bsc Medical Technology, Bsc Human Nutrition 2,3 Year, BPT 2,3,4 Year, Post Basic Bsc Nursing II Yr, Bsc Nursing 1,2,3,4 Yr, M.C.M. II & IV Sem Date sheet
Barkatullah University Time Table Pdf Download
UTD 3 Semester Exam
UTD 1 Semester yoga
UTD 1 Semester Exam
LLB Exam Paper Postponed Notice
Extend Exam BSC III sem Notice
B.Sc.B.Ed./B.A.B.Ed. and M.Ed. Timetable
BAMS 4
M.Lib
B.Lib Time Table
B.Ed First Semester Date Sheet
BU Bhopal Sixth Semester Exam
BLIB
BPES I year
BPES II year
BPES III year
Bachelor of Hotel Management 1 Sem.
Barkatullah University Time Table 2020 UG PG
Dear students refer to the following sections and visit the official link generated at the end of this page. Kindly, note all the information illustrated is based on the official and non-official reference. The examination authority is going to carry out the degree exams for various Undergraduate and Postgraduate courses in 2020. Engineer Jobs: BEL Recruitment for Engineer
Students enrolled at the varsity for degree programmes like BCA, BSC, BCOM, B.Tech., BA, BBA, MBA, MCA, LLB, B.Ed, LLM, PG Diploma and other certificate courses. Remember to obtain a copy of your Barkatullah University Time Table 2020 from here and note all the Dates specific to your exams. The authority now provides exam routine verify it now. Degree Jobs: MP Vyapam Recruitment
News Topic: Barkatullah University Bhopal Time Table 2020
Courses Provided: BALLB/LLM, BBA/MBA, BCA/MCA, BCOM/MCOM, BE/ME, B.Ed/M.Ed, B.Pharma/M.Pharma, PGDCA, MSC, M.Tech, and others.
Colleges Affiliated to BU Bhopal: 3395
Education Mode: Private and Regular Admission
Departments of Education: Faculty of Arts, Commerce, Education, Engineering, Life Science, Management, Pharmacy, Social Sciences, and Distance Education.
Study Session: 2020
Examination Commencing Dates: April/ May July & Nov Dec 2020
www bubhopal nic in time table Issuance: Released for UG PG Courses
BU Bhopal 1st, 3rd, 5th Semester Time Table 2020
To further inform the students, the varsity will upload Barkatullah University Time table semester-wise that is odd sem (1st 3rd, 5th) and for even semesters (2, 4, and 6). The theory, Practical, and Viva exams are conducted at the end of every semester with odd semester exams taking place in April May November-December every year in the form of Odd and Even Sem.
The responsibility of the examination controller to provide exam-related updates to the candidates and general users through its official web portal. Thus, students are recommended to stay alert online and keep visiting here to fetch more updates in this regard.
Here is a quick look at the facts and supportive information that should be known to everyone should be aware of the facts about the institutional Mission and Vision. The varsity has width est stream of degree courses offered to the students both in the distance education and full-time programmes.
The institution is also accredited Grade 'B' by NAAC and has established its jurisdiction in the territories of Bhopal, Sehore, Vidisha, Raisen, Hoshangabad, Harda, Betul and Rajgarh. All the official and academic details are available at the official web media of the university and can be easily fetched by visiting the directed link provided below.
Barkatullah University Time Table 2020 1st, 2nd, 3rd Year
Here are simple ways to reach the main page of the site by typing URL, "www.bubhopal.ac.in." and refer to the " Barkatullah University Time Table" segment and find the Time Table link. Follow it to get to the page where the date sheets are listed according to the course and semester-wise. Follow the same to download the exam routine and print it after electing the course title and subjects/Semester/ Stream.
Barkatullah University Semester Exam Time Table 2020
Please follow the guidelines and visit the authenticated link arranged at the end of this news update. Download BU Bhopal UG PG Date Sheet before the examinations start and prepare for the theory and practical tests. In case of any problems concerning this information, please text your message in the comments box displayed below.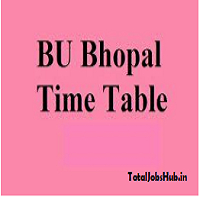 Exam Programme of Barkatullah Bhopal University B.Sc Part I/II/III
Exam scheme of BU Bhopal BA/ B.Sc/ B.Com Part III
Barkatullah Univ BA Part I/ II/ III Exam Date
Barkatullah Univ Date Sheet B.Com 1st 2nd 3rd Yr
Barkatullah Univ B.Sc(Hons) Part III Exam Programme
Barkatullah Univ B.Com Subsidiary Part II Date sheet
Download Here UG PG 1st 2nd, 3rd 4th, 5th 6th, 7th 8th Sem date Sheet April May