Science is a fun subject due to its multiple applications found in everyday life. Students who love to experiment will fall in love with this subject. There are so many experiments which not only gives you fun but also helps to understand the subject more.  Here in this post, we will discuss few science experiments you can do right now at home.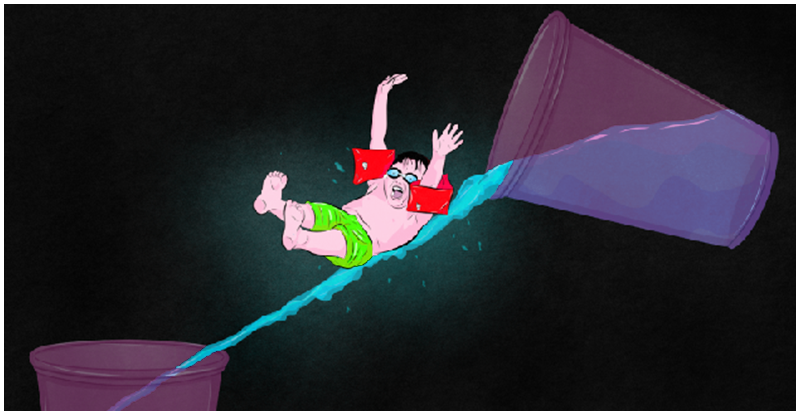 Camphor Boat:
Things needed
Cardboard or thermocol
Camphor
water
Gum
What to do
Take a cardboard, preferably thermocol and cut that in the shape of a boat. Stick a camphor under that and place it on the surface of the water and watch it splashing across the water for several seconds. See, you have made a camphor powered boat.
How does it work?
This boat floats on water due to surface tension. The camphor present slowly dissolves in water and creates a difference in the surface tension of the water that pushes water backward and hence moving the boat forward.
Build A Fizz Inflator
Things needed
Empty plastic bottle
Baking soda
Balloon
Vinegar
Funnel
What to do
Carefully fill one fourth of the bottle with the vinegar. Fill the balloon with baking soda using a funnel. Now carefully put the neck of balloon all over the neck of the plastic bottle without letting the baking soda into the bottle. Slowly lift the balloon so that the baking soda falls into the bottle and mixes with vinegar. Experience you own fizz inflator at work.
How does it work?
When vinegar and baking soda are mixed, it creates an acid base reaction. This reaction releases gas which spreads into the balloon thereby blowing it.
Create Your Own Volcano
Things needed
Paper, plaster and scissor or clay
Baking soda
Liquid dish soap
Red and orange food coloring
Vinegar
What to do
Create a volcano shaped toy with the help of plastic paper or clay. Pour two spoonfuls of liquid dish soap, few drops of food coloring and baking soda into that volcano shape. Now pour vinegar into that from a safe distance and experience the eruption.
How does it work?
When vinegar and baking soda are mixed, it creates an acid-base reaction. The reaction will bubble up and flow down the sides like a real volcano. Food coloring is helpful to give the color of lava.
Dancing Ghosts
It is a super simple experiment but generates lot of fun. For this spooky experiment we need
Tissue paper
Balloon
Scissors
Head with hair
What to do
Carefully cut the tissue paper into a ghost shape not exceeding 4-5 centimeters. If you want, you cut few more ghosts. Place them on a flat surface. Now, take a balloon and blow it. Tie the open end with a thread tightly so that no air escapes. Then rub it very fast through your hair for nearly ten seconds and immediately bring near the ghosts. Watch the ghosts dance and repeat the process.
How does it works?
Rubbing the balloon to your hair generates a static charge. The static charge created has the ability to attract light particles towards them. When the balloon is brought near the ghosts, the static charge attracts those towards it, and this appears as if ghosts are dancing.