MUHS Time Table 2017
It is time to get MUHS Time Table 2017 and start preparing for the winter exams. The Maharashtra University of Health Sciences is going to begin the university exams for various degree level courses. And as a student, you must be aware of MUHS Exam Time Table Winter 2017 in order to hone your skills and prepare with 10 percent effort. The currently registered candidates are hereby informed that MUHS Nashik UG PG Winter Nov-Dec Exam Schedule 2017 now available to download for various courses. Read further important specifications given down the segment.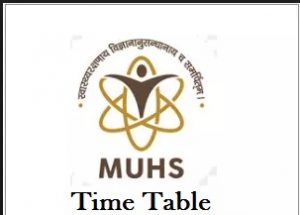 The Maharashtra University of Health Sciences, Nashik is one of the reputed names among the institutes that offer Undergraduate and postgraduate courses to the enrolled students every year. The programmes that are being taught on and off campus are namely BAMS, BHMS, BPTH BPMT, BUMS, B.Sc. Nursing, M.Sc. Nursing, Diploma, and MBBS BDS, BAMS MD, MS, MBBS, MASLP, MPO, MPTH, MOTH. There are thousands of medical aspirants, who undergo a regular assessment for the semester they are studying in. Like every year, there is a strict and timely exam plan that is designed to conduct the Varsity exams and candidates compete in the theory and practical exams to clear the examinations. The examination process is generally carried out in two sessions a year; the summer sessions in May-June and the winter session in November-December.
Latest Time Table Updates:

Revised Practical Batch Wise Time Table of M.D. Homoeopathy Regular Course, Part-I (2012), Part-I (old), Regular Final (2012) & Regular Final (old) of Winter-2017 Exam.

Revised Tentative Time Table for Practical Exam (MPT (2016), MPTh, MOTh, M.Sc. Nursing, MASLP & MPO courses)

MBBS Tentative Practical Timetable for Winter 2017 Examination

Revised Tentative Practical Time Table for (First MBBS-2017 Supplementary Exam)

Tentative Time Table – 1st to Final BAMS 2010 & 2012 Course Practical Exam Winter
Tentative Practical Time table for BPTH, BOTH, BASLP & BPO Courses Winter Examinations.
Tentative Time Table of Practical Examinations Winter  Homeopathy Faculty (UG)
Practical Examination Tentative Time Table PG- Dental (Course M.D.S.) Winter – 2017
Tentative Time Table – 1st to Final BUMS New & 2013 Course Practical Exam Winter 2017
Tentative TIme Table for Practical Examinations Winter 2017 Examinations. (MPT (2016), MPTh, MOTh, M.Sc Nursing, MASLP & MPO Courses)
Tentative Time-Table for Practical Examination Winter-2017 (Basic B.Sc. Nsg.)
BSNL Jobs for 10th/12th Get Here
MUHS Nashik time table Winter 2017
In order to have a better revision and do the timely studies, the students will need MUHS time table winter 2017. They are notified here that University Exam controller is all prepared and is managing the calendar for the ongoing academic session. For an insight detail, the candidates are advised to keep visiting this page in order to have the exam schedule at the right time. Find out more information and get to know where and how you can have the Date Sheet easily.    
Going For an Interview? Don't Miss This
Declaration Type: MUHS Time Table 2017
Exam Controller: Maharashtra University of Health Sciences, Nashik
Name of Programmes: Undergraduate and Postgraduate Courses (Medicine)
Academic Session: Winter
Examination Duration:

November-December

Date Sheet Status:

October 2017
MUHS UG PG timetable 2017
Having UG PG Winter November Exam Schedule in hand will help the students to arrange and manage their time according to the date sheet and eventually, they will be able to perform to get the better of their preparations and revision. Turn to the following segment of this article and download the date sheet that has been scheduled for this winter session examination. All the preparations and events have been duly considered by the MUHS authority and examination cell.
The examination will take place for the currently offered programmes that vary from 3-year degree to 5-year courses like MBBA, BAMS, BUMS, BHMS, B.Sc. Nursing, B.P.M.T, B.P.O., M.Sc., MD & MS, and P.G. Diploma. Candidates are suggested to keep an eye on the latest news and information to be generated on the official web gateway and issued by the authority.
Instruction to Get MUHS Time Table 2017 Winter
It is important to reach the right site authorized by the Varsity panel which is, "www.muhs.ac.in"
After landing on the homepage of the site, check the 'Students Corner' given on the left.
Follow it and get the list of currently listed links and notifications.
Download the MUHS Date sheet for winter session and take a printout for a further convenience.
Carefully, note all the dates and examination events and plan your time table accordingly.
MUHS Nashik Winter Time Table 2017 
Get across these above-mentioned instructions to avail Nashik Time Table BDS, BAMS MD, MS, MBBS, MASLP, MPO, MPTH, MOTH, Bsc, Msc and start preparing for your test. To get to know more and have a regular update regarding the examinations, follow the authenticated specified below.