CCSU Private/ Regular Form 2017
Chaudhary Charan Singh University, which is an eminent University (named after a person who was a farmer), now releases a great news for students. We have recently been updated that Online Registration Form i.e. CCSU Private/ Regular Form 2017 can be now filled by the interested applicants using the Main Website of CCSU (University) for all UG (Under Graduate) and PG (Post Graduate) programs or courses they can now fill the examination form 2017 from here. For this step or purpose, candidates need to take a look at the important CCS University exam form 2017 which we have mentioned with the help of this page. So, those who seek or try to find CCS University Admission Form Online Registration must stay connected with us and get it with the help of our Website (Total Jobs Hub) by visiting ccsuweb.in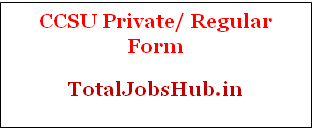 Chaudhary Charan Singh University, Meerut, which can be shortened as CCS University or CCSU, now decides to make CCS University Regular Form available for those seekers who want to do their graduation or their post-graduation from this university. Acceding to the latest news/ updates, we see that CCSU Online Registration 2017 is just about to commence (start) by University's rules or regulation. Those who seek admission in Private and Regular courses for their educations will be applying for the same very soon. The various courses in a large number are provided or offered by this university. Some students are even searching for CCSU Private Form Date or Last Date.
CCS University UG/PG Admit Card

Dear students CCS University Private Form for MA Mcom and BA Bcom 1st Year Available now… CCS University BA, Bcom 1st Year and MA, Mcom 1st Year Private form release hogae h adhik jaankari k liye neeche diye hue link pr click krke important dates Pta Krey.

Private Courses -Ist year (B.A./ B.Com./ M.A./ M.Com.) Exam Form for Main Paper 2018 
Latest News January: सीसीएस विश्वविद्यालय  Regular and Private बी.ए. बी.एससी बीकॉम दूसरे तीसरे चौथा साल का परीक्षा फॉर्म आगे बढ  गई  है | इस विश्वविद्यालय के सभी छात्र  परीक्षा आवेदन ऑनलाइन भरने की आखिरी तारीख  7th January |अधिक जानकारी के लिए हमारे साथ जुड़े रहें |
Private First Year B.A./B.Com/M.A./M.Com
Pre-Registration (Step 1 of 4)
B.A./B.Com/M.A./M.Com व्यक्तिगत छात्रों हेतु प्रथम वर्ष परीक्षा का फॉर्म
(प्रथम चरण – परीक्षा फॉर्म पूर्व-पंजीकरण)
Private First Year B.A./B.Com/M.A./M.Com
Fee Payment (Step 2 of 4)
B.A./B.Com/M.A./M.Com व्यक्तिगत छात्रों हेतु प्रथम वर्ष परीक्षा का फॉर्म
(द्वितीय चरण – परीक्षा शुल्क भुगतान)
Private First Year B.A./B.Com/M.A./M.Com
Lock College (Step 3 of 4)
B.A./B.Com/M.A./M.Com व्यक्तिगत छात्रों हेतु प्रथम वर्ष परीक्षा का फॉर्म
(तृतीय चरण – कॉलेज चयन)
Private First Year B.A./B.Com/M.A./M.Com
Complete Examination Form (Step 4 of 4)
B.A./B.Com/M.A./M.Com व्यक्तिगत छात्रों हेतु प्रथम वर्ष परीक्षा का फॉर्म
(चतुर्थ चरण – परीक्षा आवेदन संपुष्टीकरण)
Collegewise Coursewise Seat Availability (Private)
Know your Temporary Registration No.
अपना टेम्प्रोरारी/अस्थायी रजिस्ट्रेशन जानिए (व्यक्तिगत)
Examination Form Reprint
फॉर्म पुनः मुद्रण (व्यक्तिगत)
Registration Payment Status (Private First Year only)
भुगतान स्थिति (केवल व्यक्तिगत प्रथम वर्ष)
Last Date for UG PG I, II, III Year Private Exam Form filling or Fee submission Date is: 22nd Jan 2018
Last Date to Submit Examination form in Colleges: 23rd Jan 2018
Closing Date for Submission of Form in University: 25th January
CCSU Online Exam Form 2017 Details
Dear Candidates fill the CCS University Exam Form 2017 for UG & PG Classes under Self Finance Scheme and UG/PG Traditional courses Odd Sem. (IIIrd, Vth & VIIth Sem and Online registration last date is earlier 07-01-2018 now extended the new date for form submission is 15th January 2018. For more details like the last date for submitting examination form others Please Check the Link and get the details now.
Date extension of Exam Form for Main Exam-2018 (Private/ Regular, Ex-student, Single Subject, Div. Improvement
Last Date to Fill Exam Form: 15th January
Closing date for Submitting the form to Colleges: 16th Jan
Ending date for Submitting form to University: 18th Jan
CCSU Examination Form 2017 Private, Regular
The Private, Regular Online Registration Form is to be released all the way through the Official Website (we have mentioned the Official Website at the bottom of this page). Interested applicants need to do their Online Registration as soon as possible because if they delay in registering themselves for these (regular or private courses), they will probably be facing server problem on Main Site by reason of over traffic on Website. So, in order to overcome this problem, it is suggested to all seeking aspirants to kindly take a step towards their CCS University UG PG Examination Form 2017 Online Registration which has to be done all the way by means of the Official Website as we have mentioned.
CCS University UG/PG Admit Card
CCS University now released the Exam Form for (Regular/ Private Session 2017- 2018) UG PG BA, BSc, B.com Msc M.com, MA UG PG, B.Ed Admission form Check the notifications below:
CCS University BA, B.sc B.com Registration 2017
Announcement Type: Regular/ Private Forms
Type of Courses: UG/ PG Courses 
Official Website: www.ccsuweb.in www.ccsuniversity.ac.in
A lot of management courses, engineering courses, medical courses and many others are offered by this authority. We, at the table furnished below, are naming some of the courses that most of the students seek admission in. For the session 2017-2018, admission forms have been made available at the Official Website now. You can check Official link via this page.
CCS University Private/ Regular Online Form 2017
The form is now released for all such students who are going to attend the annual examination for the 2017 session. But, you need to be sure the form that you want to fill has also been provided on its Main site. If you are getting any trouble regarding accessing CCSU Regular UG PG Exam Form Last Date, just let us know because we are here to help you regarding this matter. You need to check other crucial details which come under the eligibility criteria, such as age limit, educational qualification, mode of selection, etc. Check all these important data and also application/ exam fee and if eligible, then apply.
Courses provided by CCS University:
| | | |
| --- | --- | --- |
| BA | BBA | BCA |
| B.Ed | B.Com | B.Sc |
| B.Arch | B.Tech | B.Fharma |
| MA | MBA | MCA |
| M.Ed | M.Com | M.Sc |
| M.Tech | M.Pharma | LLB |
| LLM | MBBS | BDS |
The table given above does not show all courses, still, there are some other courses, but these courses are ones that most of the students grab admission in. Polytechnic is also offered by this university.
CCS University Online Registration Form 2017 Last Date
Firstly, go to the Official Website, which is given below.
There, check the suitable link for Private or Regular forms and click on it.
Then, start filling the application forms carefully.
After filling up the application forms, pay the required application fee.
Then, submit the applications and download the same after that.
Save the downloaded applications for future usage.
CCS University Exam Form 2017 Procedure
The examination form released by the campus for UG PG (campus & affiliated colleges) Courses through which candidates will attend the Annual and semester test. Candidates can check the online form from here which will be provided soon on the official website of the campus.

Aspirants now fill the CCS University Private Exam Form 2017 using the above mention link. (Last Date 22nd Jan 2018)
BA, BSC, BCOM, MA. MCOM 2nd, 3rd, IV Year Regular Students can Fill The CCSU Examination form 2018 released now
Visit Here: official website